-10% on the purchase of 6 bottles of the same wine
An introductory guide to Italian wine
Italy is a great wine country. It's the birthplace of the highly-regarded Barolo and Tuscan wines, the land of Lambrusco, Prosecco and much more. Nearly 600 denominations of origin! Learn which ones to begin with and where to start.
Italy is one of the world's main wine producers. It bottles more than 50 million hectolitres every year, with 20 of them destined for exportation. Italian wine production is comprised of 58% white wines, including still, slightly or semi-sparkling (frizzantes) and sparkling, with the remaining 42% consisting of reds and rosés.
Furthermore, in Italy you can find over 540 different varieties, both native and international, and vineyards are cultivated throughout the whole country. Its wines are organised into 78 DOCG (controlled and guaranteed denominations of origin), 331 DOC (controlled denominations of origin) and 180 IGT (typical geographical indications).
Some denominations set a higher standard of production, whether due to the quality of the grapes (wines labelled as superiore) or because of a reliance on a stronger tradition historically (the areas known by the term classico). Others, as is the case with Barolo and Soave for example, also specify which ones are the higher quality parcels of land in their area.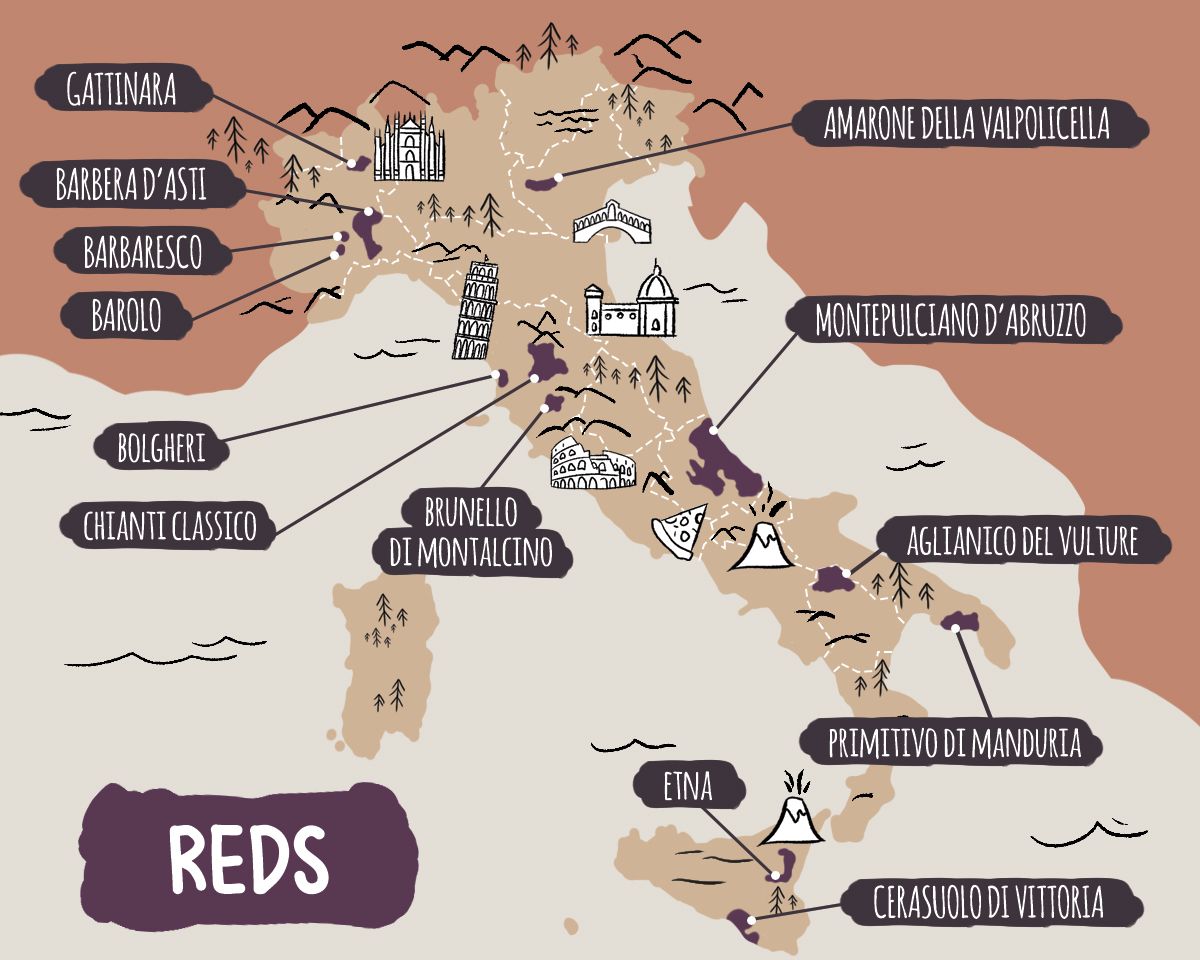 Red wines
Without question, the two most notable regions among lovers of Italian wines globally are Piedmont and Tuscany, reknown for their stunning reds. Wines made from native varieties like Nebbiolo, Barbera or Sangiovese, or international blends with Cabernet Sauvignon, Cabernet Franc and Merlot.
Piedmont, the land of Nebbiolo and Barbera
In Piedmont, the gentle slopes of the Langhe have become the natural birthplace of the Nebbiolo, a red grape capable of delivering wines as elegant as they are long-lasting, yet rustic too, with firm tannins and astonishing freshness. Matured slowly in barrels and very large casks, the Nebbiolo yields the elegant and refined Barolo and Barbaresco wines, the kings of Piedmont. It's not easy to pick out just one, but to offer a couple of examples of their elegant rusticity, we'd choose the Barolo Albe from G.D. Vajra, a traditional Barolo, austere and majestic, and the generic Barbaresco from Produttori del Barbaresco, the entry wine made by this well-respected Piedmontese cooperative. Without leaving Piedmont, Nebbiolos are to be found in other areas too: for example, in the north, in the foothills of the Alps. Here the Nebbiolos are more subtle, mountain wines, products of volcanic soils. The most important denomination is Gattinara and its most archetypal creation, the Travaglini Nebbiolos, with their distinctive bottles, curved at the bottom so as to do away with decanting.
Piedmont is also Barbera terrain, a native variety which is highly acclaimed due to its notable versatility with food and well-known for its great nobility. Barbera wines are acidic but enveloping, complete, pleasant and perfect for pairing with a wide assortment of dishes. Among the numerous denominations, the marvellous Barbera d'Asti would be the most outstanding: make room in your cellar for a few bottles of this organic Barbera, the Mon Ross from Forteto della Luja, an absolute haven of biodiversity.
Tuscany, Italian Sangioveses and Cabernets
Meanwhile in Tuscany, the star variety is the Sangiovese, which thrives on the loamy, chalky soils characteristic of this region's classic area. Tuscan wines have great structure, and they're tannic, fresh and very long-lasting. They come under such famous DOCG category denominations as Chianti and Chianti Classico, Vino Nobile di Montepulciano and, further south, Brunello di Montalcino. By means of using various techniques and lengths of ageing, the Sangiovese manages to express all its character in direct and energetic young wines, as well as in its aged wines, which are more powerful, elegant and long-lasting. Here too there would be many recommendations, but the Fèlsina Chianti Classico is a wine that has become an everyday essential. For important celebrations, all lovers of good wine should always have a Brunello in their collection: the great classic and most successful seller on our website is the spectacular Sangiovese from the Il Poggione winery, its Brunello di Montalcino.
Another famous denomination is Bolgheri, located in the Maremma, overlooking the Tyrrhenian Sea, a locality that has become the birthplace of wines made from international varieties in Italy. Here the climate is gentler and the soils vary greatly, but ideal for bringing forth magnificent Bordeaux-style reds: where you'll discover Italy's finest examples of Cabernet Sauvignon, Cabernet Franc and Merlot, with such eminent names as Ornellaia, Grattamacco, Guado al Tasso and Sassicaia, a wine with its own denomination (Bolgheri Sassicaia), the Italian Cabernet par excellence.
If you prefer your reds more global, you'll find them among the so-called Super Tuscans, wines which don't belong to a specific denomination but are recognised for their quality and for being also produced using French varieties. One of the most legendary is Tignanello, from Marchesi Antinori, Tuscany's most famous producer; another is the majestic Masseto, out of reach for most pockets.
Ripassos, Amarones and other Valpolicella reds
Veneto is another land of exceptional reds. In Valpolicella we come across several types of wine. Those accredited to the Valpolicella DOC are basically young crisp wines, chiefly produced from the Veronese Corvina. Alongside are the Amarones, as silky as they are robust, and obtained by making wine with dried grapes in the Amarone de la Valpolicella (a DOCG) tradition. Amongst them too are the Ripassos, wines from Valpolicella which have remained for a time in contact with the same skins that have previously been used in the maceration of an Amarone; Ripassos are wines which combine freshness from the former with the latter's velvety touch: they come under the Valpolicella Ripasso DOCG.
Give some of these wines a try and they'll captivate you straightaway: for price, you can't beat the Valpolicella Classico from Degani, a very fragrant wine that's worth buying by the case! For its style, elegance and opulence, an absolute must to add to your cart is Masi's Amarone Classico Costasera. Yet another constant classic, a necessity for any occasion: the Ripassa from cantina Zenato, a superior category Valpolicella Ripasso.
Indigenous grapes in the centre and in the south
Italy is immensely rich in native varieties. Particularly remarkable among them is the Montepulciano, a grape that's primarily used in the making of single varietal wines, resulting in reds with great structure and tannicity. And the Campania region is famous for its Aglianico reds, tremendously complex wines with an extraordinary capacity for laying down, known as the "Barolos of the South". Simply taste and you'll believe it. If you'd like to put them to the test, compare a bottle of Montepulciano d'Abruzzo from Zaccagnini's Tralcetto range with one of L'Atto, the most astonishing Aglianico from Cantine del Notaio.
The Apulia region occupies the territory known as the heel of Italy. It's the homeland of delightful, rounded reds made with the Primitivo grape. This variety stores up a great concentration of sugars and delivers both stunning reds and some excellent natural sweet wines. From our own experience, the most esteemed and representative of Apulia's wines are the lively and delicious Maccone Primitivo made by Angiuli and the pleasant, elegant and complete Primitivo di Manduria Sessantanni from the San Marzano winery.
Finally, in Sicily we come across the island's surprising dichotomy: the medium-bodied fruity wines made from Nero d'Avola, on the one hand, and the subtle, elegant Etna reds obtained from Nerello Mascalese and Nerello Cappuccio grapes. Among others are some interesting single varietals, of Cabernet Sauvignon and Syrah, delicate Frappato wines and ones from the island's only DOCG, Cerasuolo di Vittoria, always a blend of Frappato and Nero d'Avola. Two major labels to start off with: Nero d'Avola from Colosi and Etna Rosso from Planeta, and two producers always worth bearing very much in mind: Arianna Occhipinti and Azienda Agricola COS.
Rosés
Rosés in Italy are chiefly found in three areas. In the north, there's the Garda rosés, known by the name of chiaretti, due to their lightness and pale colour, Provence-style rosés. Valtènesi is one of the main denominations for this kind of rosé. In the center, we find rosés made with Montepulciano grapes, rosés with a body similar to reds, attributed to the Cerasuolo d'Abruzzo denomination. Finally, in the south, the rosés of the Salento peninsula are generous and enveloping wines, with much more structure, mainly made with Negroamaro grapes. If you prefer them delicate, you'll enjoy RosaMara from Costaripa. For a classic Salento, there's the Five Roses Anniversario made by Leone de Castris.
White wines
As with reds, Italy offers a great variety of white wines throughout the country. Coastal, mountain and volcanic wines, biodynamic projects and viticulture on a heroic scale, organic wines, natural wines, orange wines, cutting-edge oenology and tradition at its most authentic.
Cortese, Arneis and Timorasso grapes in the north
Also highly regarded are Piedmont whites produced with the Cortese (in the Gavi denomination), Arneis and Timoraso varieties. Give Vietti's Roero Arneis a try one day and you'll definitely be ordering it again.
In the north of the country too are wines from Soave, a denomination of superb whites made using Garganega grapes, emanating from vineyards planted near the city of Verona on soils of volcanic origin. Subtle, mineral wines, extremely flavoursome, fresh, and perfect for laying down. As well, the very recommendable wines of the foremost Lake Garda denomination: Lugana. Smooth wines, full of flavour and long-lasting, and probably the most highly-acclaimed whites by the thousands of tourists who every year enjoy their holidays in this area. Soave and Lugana are always a good pair to offer to guests, two wines complementing each other rather than competing; both of them perfect for drinking immediately, although they have incredible cellaring potential too. Two suggestions, to have always ready to hand: Soave Classico from Pieropan and Lugana I Frati from Cà dei Frati.
Sauvignon Blanc, Pinot Grigio, Friulano and Ribolla grapes as well
Friul is the other area in Italy typically known for whites. Here we find wines produced with not only international grapes like Sauvignon Blanc or Pinot Gris (Pinot Grigio in Italian) but also local ones: Friulano and Ribolla being the foremost. Three wineries which have made their mark on the history of Italian white wine are Livio Felluga, Jermann and Vie di Romans. Any of their wines are always a wise choice. A great option too is a bottle of Radikon's Jakot to enjoy all the originality of Orange wines and get to know the Collio denomination, on the border with Slovenia.
And the most aromatic white grapes
In South Tyrol, the Trentino Alto Adigio region has as its focus the cultivation of more aromatic grapes, both indigenous and international, such as Gewürztraminer, Riesling, Moscato Giallo (Yellow Muscat) and Pinot Blanc: fresh young wines, very highly rated both in Italy itself and beyond its borders. The reference points among wineries here are Tramin, Terlano and San Michele Appiano, and make sure you taste one of their Pinot Noir (Pinot Nero) reds too; Trentino Alto Adigio is the ideal Italian region for growing this grape of French origin.
Verdicchio, the great white grape from the Marche region
As we move down towards the south, the whites become richer in structure and character again, resulting in impressive, elegant wines. The Verdicchios from the Marche region, for example, are fresh wines with an intense flavour, eminently suitable for oak ageing. In our online shop you'll discover some of the smoothest, freshest and most mineral, such as the Verdicchio di Matelica made by Collestefano, along with others which are more opulent, complex and enveloping like the illustrious Verdicchio di Jesi Riserva from Villa Bucci.
Vermentino whites, between Tuscany and Sardinia
The most representative Italian white grape of the Tyrrhenian coasts is the Vermentino, totally familiar to all who spend time in the summer by the sea in Liguria, Tuscany or Sardinia. Its wines are fresh and fragrant, on occasions really multi-faceted and mineral, with great flavour. Add some of our top sellers to your cart and you'll keep that holiday feel going right through the year: Cala Reale from Sella & Mosca (Sardinia), Etichetta Nera from Lunae (Liguria) and the Bolgheri Vermentino made by Tenuta Guado al Tasso (Tuscany).
Fiano, Greco and Falanghina, the southern grapes
The best whites from southern Italy are unquestionably those made from Fiano di Avellino, a grape that's found growing at altitudes of up to 700 metros, with its characteristic aromas of hydrocarbon and flint. Don't miss out on a splendid wine like Pietracalda produced by Feudi di San Gregorio, with a fantastic price-quality ratio.
Also well worth trying is a Greco di Tufo, providing fresh and fruity wines, as well as a Falanghina white. For getting to know these two grapes, indigenous to Campania like the Fiano, we suggest two simple but essential wines which will bring the southern Italian sun and scents straight into your glass: Greco di Tufo Cutizzi from Feudi di San Gregorio and Falanghina del Sannio Taburno from Fontanavecchia.
Grillo, Catarratto, Inzolia and Carricante: Sicilian white grapes
Finally, in Sicily, as happens with the reds, the whites are on the whole fragrant and fruity, using the Grillo, Catarratto and Inzolia as examples. Others are more acidic, with greater flavour and mineral, namely the Etna whites, produced with Carricante grapes. You'll find all types in our online shop, plenty of excellent options, like a bottle of Anthilia made by Donnafugata or Planeta's Etna Bianco.
Spumantes and Proseccos
The north of Italy is the great producer of sparkling wines. The Franciacorta (Lombardy), Prosecco (Veneto) and Asti (Piedmont) denominations are the country's outstanding names in the production of sparkling whites. In Franciacorta they are made according to the classic method (like Cavas and Champagnes), and likewise in Trento, Oltrepò Pavese and Alta Langa. Whereas in Asti and for Prosecco production, the Charmat (or Martinotti) method is used, which means the second fermentation is carried out in tanks (autoclaves). The quality of the vineyard has a considerable influence on the finished product, as can be detected in the exceptional Proseccos from the Treviso hills, in the Conegliano-Valdobbiadene denomination.
Classic or Charmat? It's difficult to compare a traditional sparkling wine with another produced in a tank, but broadly-speaking you could say that the former are usually more mature and complex, whilst the latter are more fruity and mineral. Pick out as one of your purchases Bellavista's Alma Gran Cuvée Brut and compare it with the Prosecco Brut from Bisol's Bel Star range. For more special occasions, don't ever think twice about treating yourself to one of the magnificent sparkling wines of Ferrari, the legendary Trento winery (Trentino - Alto Adigio).
Lambruscos
Lovers of bubbly reds will find their special paradise in Emilia Romagna, the land of Lambruscos, in all its versions. They come dry, slightly sweet, reds, rosés, always so pleasantly rustic and honest. Also from different specific denominations: with Lambrusco di Sorbara, Lambrusco Salamino and Lambrusco Grasparossa being the three most important and all of them in Modena province. Are you looking for a low-priced, top quality semi-sparkling red, a fantastic frizzante? Then Otello Nerodilambrusco made by Ceci is the wine for you.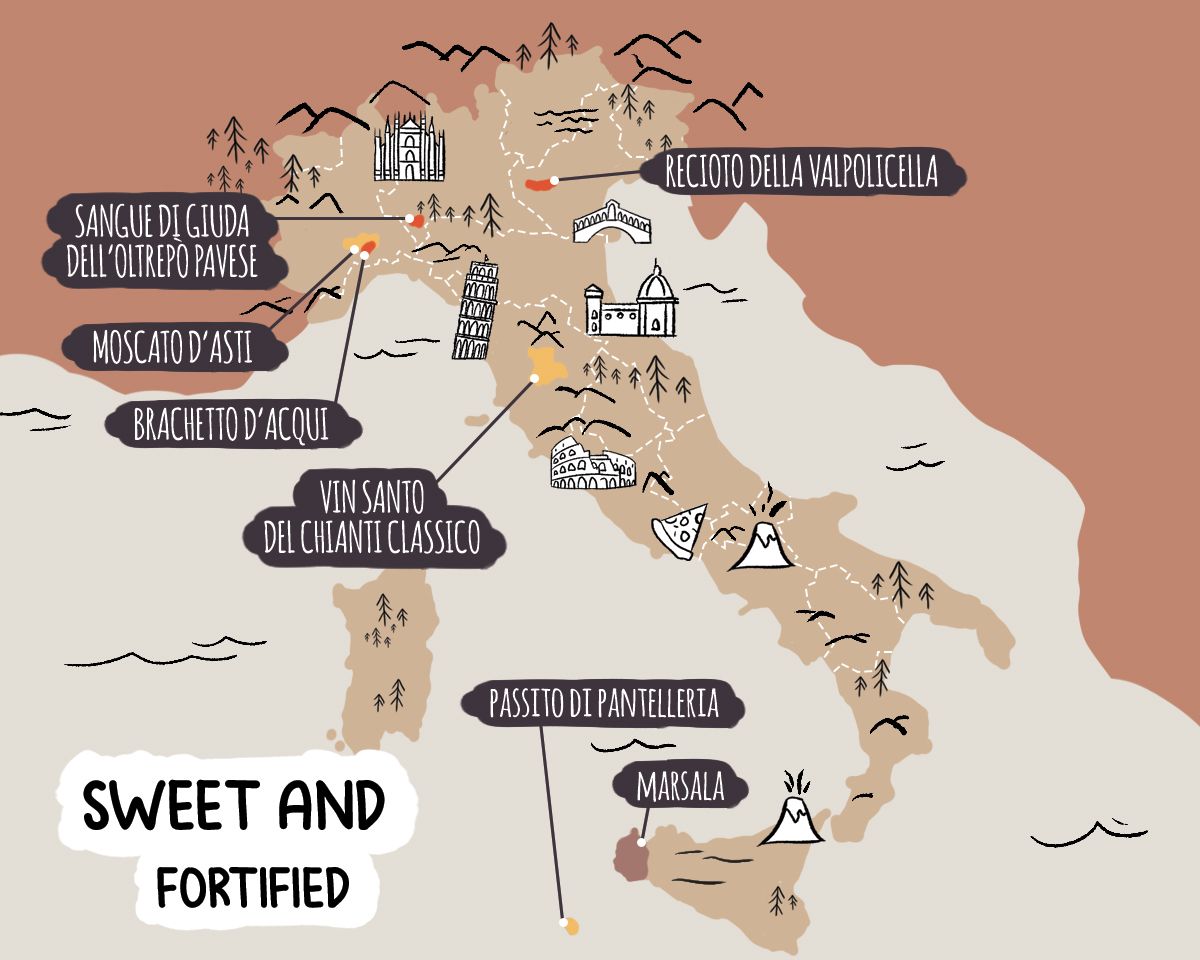 Sweet and fortified wines
Italian sweet wines can be whites or reds, and even have fine bubbles. They're to be found the length and breadth of the country, from north to south. You can't fully appreciate the Italian vine-growing scene, in all its diversity, unless you've tried a number of its outstanding sweet wines, especially its Passitos, naturally sweet wines with no alcohol added: Reciotos in Veneto, Passitos de Pantelleria produced using the Zibibbo grape in Sicily, the sweet wines made from the Albana grape in Emilia Romagna and, of course, the most famous one: Vin Santo, predominantly made in Tuscany from Trebbiano and Malvasia grapes. Vin Santo wines are produced using grapes that have been previously laid out on mats on hung to dry for many months and then aged in very small barrels. Some are produced with grapes affected by Botrytis (noble rot) and which are harvested later, like the reknown Muffato della Sala from Antinori.
Every lover of Italian wine should experience the delicious Ben Ryé, the Passito de Pantelleria from Donnafugata, available in normal size and half bottles. Among sweet reds, it would be unforgiveable not to mention Brachettos (Piedmont) and Sangue di Giuda in the Oltrepò Pavese (Lombardy).
Moscato de Asti is the sweet Christmas wine par excellence in Italy. It's not to be confused with the Asti sparkling wines (spumantes) mentioned before. The Moscatos de Asti have fine bubbles, however they're not considered to be properly sparkling but sweet, semi-sparkling wines or frizzantes (slightly fizzy), fresh and fragrant wines made with white Moscato Bianco grapes. Our top seller for many years is the Ceretto Moscato de Asti, whose freshness and balance are enchanting, ideal both for Christmas festivities and for enjoying as an aperitif at any time during the year.
Regarding sweet fortified wines, the ones of Marsala figure amongst the most famous in the world. They're produced in Sicily, mostly using Grillo grapes and they can be dry, semi-dry or sweet. Top class wines of great finesse in whichever version they come, on a level with Port or Sherry. Try tasting them together! Choose a Terre Arse, made by the Florio winery, and you'll see just what a tough time they give their rivals.