WELCOME AUTUMN - Up to 20% off on selected products
Wine Gifts
Offering wine as a gift is always an excellent idea. A birthday approaching, saying thank you, giving corporate gifts, Christmas coming... Surprise your friends, relatives or clients with a lovely bottle of wine or a mixed case selection. Choose your own or their favourite wines and we'll make sure they're delivered on time. Vinissimus has years of experience in delivering wine gifts to the UK and to other countries in Europe.
Make your own selection
Wine sent as a gift is a very personal way to show someone your appreciation. If you already know their taste and preferences, then find the wines best suited to your needs and budget. Are they keen wine connoisseurs, always ready to discover new regions and little known varieties? Does a particular vintage hold a special meaning? Maybe a certain label or brand recalls a place and time spent together. You'll find below a few selected wines which never fail.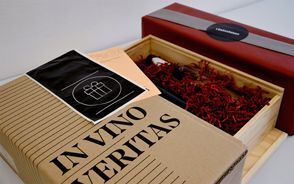 Red wine gifts
If you're not sure what they prefer, here are some super reds sure to please every wine lover. Wines from some of the most prestigious Denominations of Origin in Spain and Italy, both classic and contemporary wines, all delightful reds appealing to any palate.
Exclusive wine gifts
Some expert palates require the finest wines. High-ranking wines, special vintages, single vineyards, signature wines from leading winemakers...
Sparkling wine gifts
Cavas and Champagnes always add glamour to any occasion and make perfect festive gifts in their elegant bottles. We've selected some of the best value Brut and Brut Nature Cavas, Rosé Champagne... at varied prices.
Corporate gifts
Our range of world-renowned wines ensure your business gifts will be a success. Here are some selected fine wines, but please feel free to let us know your preferences and budget, so we can make a personalised selection for you.
We specialise in large orders delivered to multiple destinations! Just let us know the names and addresses of the recipients and we'll make sure they receive their gifts. We deliver to Spain, France, Germany, Italy and the UK. You can send us your business cards and we'll enclose them with your corporate gifts free of charge. For more information, don't hesitate to phone or contact us by email.