FINAL SALES! Up to 15% off
Wine from Ribera del Duero
When thinking of top-quality Spanish red wines, most people nowadays will totally agree that Ribera del Duero wines stand as a benchmark, continually strengthening its position. The great efforts of the bodegas, which have been committed to expressing the terroir through their elegant wines, have brought prosperity to the Spanish vine-growing scene and set the standard for quality at a very high level.
Ribera del Duero
When thinking of top-quality Spanish red wines, most people nowadays will totally agree that Ribera del Duero wines stand as a benchmark, continually strengthening its position. The great efforts of the bodegas, which have been committed to expressing the terroir through their elegant wines, have brought prosperity to the Spanish vine-growing scene and set the standard for quality at a very high level.
There are a number of factors that have determined the rise in popularity of these wines, which can be summarized as follows: making the most of the fine performance of its star native grape variety Tinta del País or Tinto Fino (Tempranillo); the microclimate predominantly found in the region with cold nights and hot days that help the grapes to reach full ripeness; the limestone and chalk soils; and especially the great expertise of the wine producers who have used their knowledge and understanding to create a fine balance between the grape variety's distinctive characteristics and the contribution of oak-ageing.
The region lies along the 110 km length of the Duero River as it passes through the provinces of Soria, Segovia and, in particular, Burgos and Valladolid where the majority of vineyards are located. The vines are planted on the slopes and terraces that descend towards the river and also on gently undulating ground.
Although Ribera del Duero wines enjoy an unquestionable and well-deserved popularity, the region only became an official winemaking appellation in 1982. Having said that, archaeological research has shown that vines were already being grown here over 2,500 years ago. One example of the evidence for this is the 66-square-metre Roman mosaic found here during the 1972 harvest. Decorated with allegories related to the Roman god of wine, Bacchus, it is thought to be the largest mosaic of this style in the Iberian Peninsula.
A group of vine-growers and wine cellar owners in love with this area and concerned about the prestige of their wines took the initiative to ask for the region to be declared a Designation of Origen site (or appellation) a few decades ago. The governing board started to operate provisionally in 1980 before the official designation was eventually awarded two years later. Few winemaking regions in the world have experienced a similar meteoric rise to success such as the one Ribera del Duero has enjoyed since then. New vine-growing methods were introduced to obtain better fruit and modern technology was brought into the cellars. The governing body began to carry out exhaustive quality checks, above all on the cultivation and vinification processes and all this led to vast improvements in wines in a short period of time.
These changes together with the values that Ribera del Duero winemakers had always worked with, though sometimes not to their best effect, such as the climate, soil, and grapes have helped create great wines. The climate conditions of these 115 km of riverside valley have a big effect on the vines' growth cycles: rainfall is relatively scarce (between 400 and 600 mm a year), summers are dry and winters tough, and temperature differences are significant. These are key factors affecting the ripening and complexity of the fruit. The region is also privileged regarding its soil. Silt and clay sands mix with chalky layers and loams at heights ranging between 750 to 900 metres.
Grapes
The grapes grown in Ribera del Duero deserve the praise they receive. The maximum yields accepted by the D.O. are 7,000kg per hectare. Estates whose production exceeds this limit cannot label their wines as Ribera del Duero ones. Interesting white wines are made here based on the Albillo variety but the appellation is especially renowned for its red wines – and, specifically, reds made from the number one grape, Tinto Fina (Tempranillo). Other red grape varieties are sometimes used in small proportions to make up the final blends but none of them has the importance of the local variety, Tinto Fina. Its compactly-bunched grapes give wines an intense violet colour, aromas of wild black fruit, and a firm yet sweet tannicity.
Wines
Over 1,200 wine producers use the Ribera del Duero D.O. label which tells the drinker the wine's origin as well as the type of wine in the bottle: rosé, and young, Crianza, Reserva, or Gran Reserva reds. White wine makes up only a very small proportion of overall wine production here.
The fruity and fresh rosé wines are made using a minimum amount of 50% of the red grapes authorized by the appellation (Tinto Fina or Tempranillo, Cabernet Sauvignon, Merlot, Malbec, Grenache) while red wines must include at least 75% of the local Tinto Fina grape which must also make up 95% of the overall total either alone or in combination with Cabernet Sauvignon, Merlot, or Malbec. The remaining 5% can be made from Grenache or Albillo.
The 'young' red wine is defined as a wine which has not aged in oak barrels at all or, at most, up to a maximum of 12 months. These wines have a more striking and intense colour, with violent tones and aromas of wild fruits. They are refreshing, juicy, tannic and lively wines.
Crianza wines have spent at least 12 months in barrels and can be released onto the market only after the first of October of the second year after harvesting, thus ensuring a completely rounded wine ready to be enjoyed immediately. They often have an intense Picota cherry colour and the odd hint of blue reminding us of their recent youth. The balance between fruit, spices, and toasted hints of wood is perfect on the nose. Structured in the mouth, they are silky and expressive wines with a complex taste and a long lingering finish.
Reservas have been aged in the barrel and bottle for 36 months altogether, with at least 12 months of that time spent in the barrel. They are released after the first of October of the third year following the harvest to ensure the wine is perfectly refined and the colour is settled with ruby hints. They have a very elegant nose with mature fruit blending with leathery and balsamic aromas. Extremely balanced wines in the mouth, both powerful and delicate with complex aromas and a long life ahead of them.
Last but far from least, Gran Reservas are wines which have aged for a minimum of 60 months in barrel and bottle – including at least two years in the barrel. They are sold after the first of October in their fifth year. Their palette of colour seduces at first glance with tones ranging from claret to ruby, tinged with red roof-tile coloured hints which cannot disguise the wines' fine ageing. The fruit is mature on the nose, and tertiary aromas derived from the time spent in oak embellish the wine with spices, toast, and hints of game. Despite their age, they have a solid structure in the mouth with an elegance and complexity greater than that of their younger cousins. Their lively acidity leads to a perfectly balanced drink and promises a long and successful life.
Cellars and architecture
Wineries open to the public have come together to create the Ribera del Duero Wine Route. Through these visits it's easy for wine-lovers to appreciate the continuous hard work of local people ever since the pre-Roman Vaccean peoples who lived and made wine here. Wine has always been one of the economic engines of this region, which experienced one of its high points during the Middle Ages. At that time, monasteries were at the heart of winemaking, digging out the first underground cellars, some of which can still be entered. These tunnels, found at several metres of depth, allowed wine production to be increased significantly. Although the majority of those still remaining are no longer in use, some are used for producing and ageing wine.
Besides historical cellars, there are many modern wineries here too, committed to using modern creative architecture to shape their buildings and make it easier to carry out the work. Some of them, such as Bodegas Protos or Bodegas Portia are authentic modern temples of wine, contemporary monuments which you shouldn't miss when visiting Ribera del Duero if you want to capture the complex and rich reality of their wines.
Top names in the appellation also include Bodegas Vega Sicilia and Dominio de Pingus while other great producers like Tinto Pesquera, Bodegas Emilio Moro, Pago de los Capellanes, Pago de Carraovejas and Aalto strengthen the strong foundations of the D.O. with every vintage that goes by. Searching for wines from smaller wineries brings us to jewels such as Dominio de Atauta and Viñedos Alonso del Yerro.
Gastronomy
If the wine, architecture and history of this region weren't already fascinating enough, Ribera del Duero also has a splendid culinary heritage. Local traditional recipes pair perfectly well with Ribera wines. There is also a growing movement of signature cuisine which surprises and delights anyone who has the chance to sample it. Well-known for its lamb dishes, Ribera del Duero is also a land of great cheese, incomparable cold meats or charcuterie, and excellent game meat among other delicacies.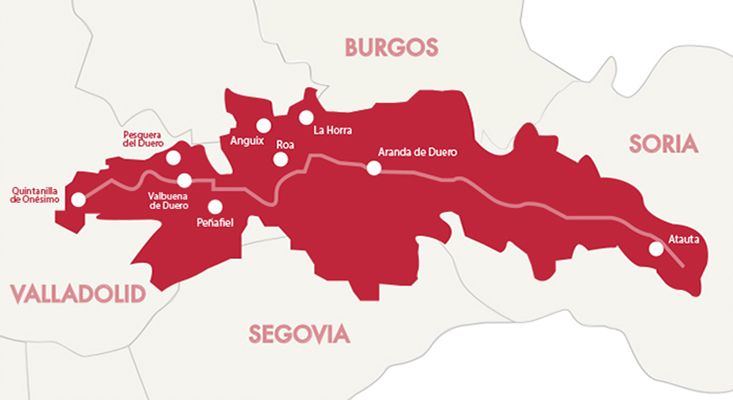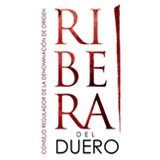 c/ Hospital, s/n 9300 Burgos