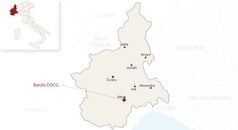 The history of Barolo coincides with one of the noblest moments in Italy's history. During the years of the unification of the country this broad and infinite red wine from the Langhe became a standard-bearer of the quality of this Italian product. And since 2014 it has represented, along with the hazelnut, and brown and white truffle, the spearhead of a territory designated as a UNESCO World Heritage Site.
The gentle hills to the south of the Tanaro river preserve, on their south-western slopes, a treasure chest of compact and rigid soils, where the best exposed Nebbiolo rows struggle to find resources and nutrients, giving the few bunches of grapes a concentration and intensity which is unique in the world. At least three years of ageing in large barrels, but also in barriques according to the most innovative producers, produces a faint and garnet nectar to the eye, while on the nose it is very broad from jam to enamel, on the palate it is incomparable for backbone, structure, tannin and length.
The Barolo region is very precious and limited, and is divided into two large areas. The western side, from Barolo towards La Morra, gives wines of greater opulence, full-bodied, quite soft and relatively enjoyable in their youth. The eastern side, centred in Serralunga d'Alba, is on more noble and compact soils, and gives wines with austere tannins and exceptional verticality, all wines to be patient with, of extraordinary longevity and sensational finesse. Cannubi in some places, Francia, Lazzarito, Cerretta, Vigna and Rionda in others...: names that immortalise the classicism of a legend.