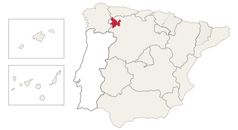 Introduced by the Romans and extended by the medieval monasteries of Cistercian monks, vine cultivation and wine production in the Bierzo region have undergone in recent years a wine-growing revolution that has placed its output on the world map of great wines.
The main factor behind this success is the area's indigenous variety, the Mencía, a red grape producing wines that are well-structured, meaty, silky smooth and elegant - characteristics that have satisfied even the most demanding palates and help to make the future look very bright indeed.
Another important factor is its geographical situation. Located in the north-west of Castilla-León and bordering Galicia, Bierzo boasts a special microclimate. Shelter is provided by the León Mountains and the Cordillera Cantábrica which protect the area from the damp Atlantic winds, and the lack of rainfall typical of Castilla helps the grapes to ripen fully.