LAST DAY! Up to -10% off in 3 packs that you can't miss
15h 33m 0s
Black Friday 2022 Wine Deals
We are already preparing a huge list with the best Black Friday 2022 wine deals. This year, Black Friday will be celebrated on Friday 25 November 2022. You don't have to wait to get great prices on wine deals. You'll find great gift ideas for red wine, white wine, Italian and Spanish wine, or amazing Cava and Champagne at the best price. You can't miss out on the best Black Friday offers in the UK on wine deals! Subscribe so you don't miss out on anything!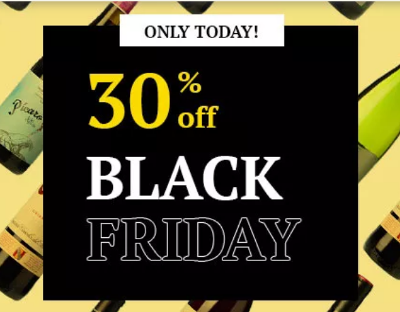 Black Friday. Up to 30% off in more than 10,000 wines from our catalogue
Black Friday has become the best day for doing your Christmas shopping, taking advantage of special deals and lower prices. This year at Vinissimus we've chosen a superb selection of wines for our Black Friday event. You'll be able to buy some of your favourite wines and fill your wine cellar, making the most of our discounts, offers and outlet prices.
What is Black Friday?
Black Friday started off in the United States and is celebrated on the last Friday of November, the day after Thanksgiving. It launches the Christmas shopping season and has become an important date in the retail calendar. Black Friday 2022 will be held on November 25th, and this year it'll be the biggest Vinissimus Black Friday event ever.
With such unmissable deals, it's the ideal opportunity to fill your wine racks with the best wines, at the best price. It ensures you'll have them ready to hand, for giving away as gifts or enjoying during the fast-approaching Christmas festivities and New Year celebrations.
When did Black Friday start to be celebrated?
It all began in the United States, with several theories about its origins, but always revolving around Thanksgiving. It may be due to the increased volume of sales which turned shop accounts from red to black, or because of the high number of accidents on the roads at this busy holiday time. It's widely reported that the Philadelphia police used the term after a surge in traffic jams and large numbers of shoppers in the streets, back in the early 1960s.
The upshot was the Black Friday tradition, with stores making big discounts to encourage customers to shop before Christmas. It has since become the busiest day of the year for most retailers, surpassing even Christmas sales.
In 2005, Cyber Monday took off in the United States, specifically designed for online retailers, to give an additional boost to sales of their products. It has gained in popularity and importance too.
What about Black Friday 2022 in the UK?
It started off in a small way in 2010, launched by one big online retailer. Between then and 2013, it gradually gathered momentum, so that both online retailers and high street stores began to offer irresistible promotions to shoppers ahead of Christmas. Black Friday has now become an annual sales event, and some traders commence their offers much earlier in the month, aiming to attract bargain-hunters. Though it's still widely believed that the best deals, best offers, best prices will become available on or just before Black Friday itself.
This year it will be celebrated in the UK, as elsewhere, on Friday, November 25th. Offers will be available just before then and last until 23:59h on Sunday, November 28th. Don't forget that if you miss Black Friday, there's always Cyber Monday, on November 28th.
The big advantage of shopping online with us this Black Friday is that you can order from home, with no traffic jams, crowded stores and endless queues. Make the most of it!
The Best Wine Deals During Black Friday
Do check out our array of red wines, white wines, sparkling wines, rosé wines and sweet wines, we've plenty of great buys at any time of the year!
Are there any changes in Vinissimus sales conditions for Black Friday?
None at all, everything remains the same for purchasing your wines.
What if I need help with making my purchases?
If you need help during Black Friday, or at any other time, our Customer Service team will be delighted to help you.