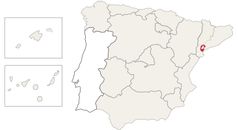 Montsant is a byword as one of the miracles of modern viticulture in Spain. It is a fitting description for this small, young Tarragona DO, which in its short lifetime has caused a sensation both in national and international markets. Its meaty, varietal, expressive wines have impressed the most exacting palates and achieved the highest scores. This has resulted in its wines being the most exported in the whole autonomous community.
Lying within the Priorat district in the south of Tarragona province, the region encircles neighbouring DOQ Priorat in a horseshoe shape. For this reason their wines share many common traits but definitely possess their own well-defined personalities. This has been achieved by choosing to mature the wines for shorter periods, which enables a better expression of the qualities of each variety contained in the wine. The most widely known are the red wines produced using the local Garnacha and Cariñena grapes, and the foreign Cabernet Sauvignon and Syrah varieties. While with regard to whites, most wines feature the native Garnacha Blanca and Macabeo in their production.
The relief is less rugged than in neighbouring DOQ Priorat and the vineyards are planted on slightly undulating ground and hillsides, with a mixture of calcareous, granite and slate soils. Taking into account too a Mediterranean climate containing a Continental element due to the sheltering mountains that surround the area, its wines are endowed with a well-defined character that makes them so pleasurable for the senses.