Vino Nobile di Montepulciano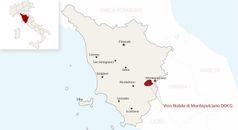 For lovers of Sangiovese, but also of caressing, non-muscularity, Vino Nobile di Montepulciano is the obligatory choice. Here, at the foot of the Montepulciano hill, towards Cortona, where Tuscany looks out over the Umbrian valleys, the clayey soils with sandstone components are the ideal cradle of the gentle blackthorn, a clone of Sangiovese typical of the area.
As we said, a "gentle" Sangiovese: affable from a young age, sometimes further refined by the fruity mammolo vine, the Nobile is one of the finest and thinnest Sangiovese, not thin-bodied but graceful, floral and slightly spicy on the nose, fresh but silky while drinking. A wine that benefits from the mildness of the terroir climate, close to the great Umbrian lakes, and which, although enjoyable when young, leaves unforgettable sensations of complexity and minerality even at a very advanced age.