Free delivery over £200
Spec sheet
Type
Red wine
Region
Grapes
Producer
Allergens
Contains sulfites
Alcohol content

i

14.5%
Production
2,000 - 3,000 bottles
The wine
Álvaro Palacios describes his exquisite and highly esteemed wine L'Ermita as a wine for intimacy, for which no words are needed, just emotion. L'Ermita caresses all our senses with a texture that defies description and a power shrouded in touching finesse; truly moving.
What does this wine taste like?
In spite of its high alcohol content and its area of provenance, year after year L'Ermita successfully comes through as a fresh wine. It proves accessible despite its complexity and is incredibly seductive, almost mesmerizingly so, from the very first sip.
On the nose, aromas of fruit (plums, blueberries, cherries…) are particularly noticeable, as well as mineral touches (gravel) and fine toasty and spicy hints. Enchanting floral scents (violets) adorn a palate that's generous and substantial, dense and weighty, yet with tannins of great finesse which bestow a high degree of persistence and elegance. A citrusy, very balanced acidity takes care of the essential input of freshness and of launching the wine into what seems like an interminable finish.
L'Ermita is compact and intriguing, and displays copious measures of light and symmetry. It boasts increasing layers of aromas, completely rounded, fresh and supple at the core; it is, to put it simply, perfection in the form of wine.
Drinking and storing
It's difficult to foretell the length of life of this grandiose wine, bearing in mind that production began in the nineties. Bottles of the first vintages opened at the end of 25 years continue to show a really incredible intensity of colour and powerfulness. In all truth, a great wine for cellaring.
We recommend decanting and serving in a Burgundy-style glass. Allowing plenty of time.
Serve between 15ºC and 17ºC
Food pairing
Game birds, duck, and grilled red meats, to mention several preferred accompaniments.



Ratings and awards
| | | | |
| --- | --- | --- | --- |
| 2021 | 99-100 PK | | |
| 2020 | 99 PK | | 100 SK |
| 2019 | 100 PK | 98 PN | 98 SK |
| 2018 | 99 PK | 97 PN | 98 SK |
| 2017 | 98 PK | 97 PN | 98 SK |
| 2016 | 97-100 PK | | |
PK: ParkerPN: PeñínSK: Suckling
Wine critics reviewsReviews by Parker, Parker, and Parker
Winemaking
In the production of L'Ermita, the grapes are picked in as many as three phases, in order to ensure that each berry has attained perfect ripeness. Once in the winery, the grapes are selected again and bunches are destemmed by hand. Afterwards, the must ferments in large wooden vats with frequent stirrings, ensuring the perfect integration of all its aromas and a fantastic colour is extracted. At the end of some 45-50 days with the skins, these are then pressed and malolactic fermentation commences in barrel. The wine rests for 14-18 months in new oak and is bottled without filtration, and clarified with egg white. The wine usually has an alcohol content of 15%, but a low pH which bestows freshness, and should be fermented with about 30% of whole bunches. Depending the year, between 500 and 3,000 bottles are produced.
| | |
| --- | --- |
| Vinification material | Wood |
| Ageing period | Between 14 and 18 months |
| Barrel age | New |
| Type of wood | French oak |
| Clarification and filtration | Clarified with fresh egg whites / Unfiltered |
Vineyards
Finca L'Ermita
L'Ermita is the name of the wine and of the steep vineyard which gives rise to the grapes used for its production, in the town of Gratallops. This magical plot boasts the certification Gran Vinya Classificada (equivalent to a grand cru), the highest distinction that wines in the Priorat QDO can aspire to attaining.
Its vines were planted between 1910 and 1940 on llicorella (slate) soils which are worked by using a mule, at an altitude of 400-520 metres. This unique spot faces mainly northwards and is planted with Garnacha, Cariñena and some white varieties, grown in accordance with biodynamic principles.
| | |
| --- | --- |
| Vine age | Between 85 and 105 years |
| Soil | Llicorella |
| Climate | Mediterranean |
| Yields | Low yields |
| Orientation | Northeast |
| Surface area | 4.50 hectares |
| Altitude | 500.00 meters |
The winery
Álvaro Palacios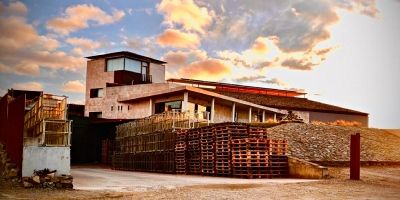 Álvaro Palacios came to the Priorat in 1989, to the town of Gratallops to be precise, following the lead of a group of local producers fully intending to pass on through their wines all the character of this land, full of its own brightness, with the shining Mediterranean sun, the gleaming slate in rocky crags, and brightly-coloured fennel in the olive groves. This is mystic, spiritual country tracing back its past to the Carthusian monks, who worked at cultivating vines...
>>
Other products from this winery
This month's Best Sellers