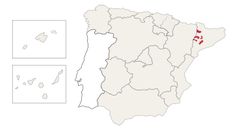 The most unusual feature of this DO is that the land it covers stretches over the whole of Lleida province, from the Pre-Pyrenees district of Tremp to the undulating, dry topography found in the mountainous Garrigues area. The region has therefore been divided up into 6 sub-zones: Pallars Jussà, Segrià, Raimat, Artesa de Segre, Vall del riu Corb and les Garrigues.
The wines of this DO, founded in the mid-1980s, are making their presence felt each year, not just because of their quality, but also based on the innovative and avant-garde methods used in wine making and due to the blending of foreign varieties with local grapes. Consequently, they range from Garnacha, Cariñena and Macabeo, to Viognier, Müller-Thurgau and Pinot Blanco - in a conscious effort to make the region's profile stand out as different.
Although it is difficult to give a clear definition of climate and soil, as the DO takes in areas with such contrasting geographical features and the vineyards are so scattered, generally the climate is continental with a lack of rainfall. Most of the vineyards are situated on the Lleida plain or in valleys with gentle mountain relief where the soil is brownish-grey limestone and poor in organic matter.