Wine Scala Dei Garnatxa 2020
Producer
Alcohol content i
14.5%
Bottle size and vintage
0.75 L - 2020
Review
The Scala Dei Garnacha is a mountain Garnacha, grown at height, pure fruit and freshness, genuine, a Priorat, mineral so it couldn't be anything but, and complemented by a touch of rusticity. A very juicy and easy-drinking Garnacha, flavoursome and elegant.
If we wanted to paint a picture of this wine, we'd choose the colours blue and dark red. Owing to its freshness and depth, and due to the colours of its aromas and flavours: blue fruits (blueberries) — although some red ones too, but deeply-hued, woodland berries — violets, fruit pastilles and caramel, that intense sweetness so typical of the Garnacha. On the palate it's vigorous, with lively but ripe tannins, and extremely pleasant. It's very luscious and once swallowed, notes of bread can be discerned, of chocolate and raisins too, with that coarse, dry, earthy feel that confers quality and bestows a rustic character complementing its splendid freshness. It has really fantastic acidity, even though a young wine, and its great quality will enable us to enjoy it for several years. It's not only long on the palate, it'll be long-lived too.
The Scala Dei Garnacha is mainly sourced from the Maset, Parada, Closos, Escorial and Forsans vineyards, with vines ranging in age between 15 and 25 years old, planted on terraces, at high altitudes, some on red clay soils, which impart freshness, and others on slatey 'llicorella' soils, responsible for the wine's minerality and acidity. Small, open 7,000-kg tanks are used in the production process, and some of the grapes have not been destalked.
Food pairing
Tapas / Roast suckling pig / Serrano ham / Entrecôte / Sheep cheese / Cannelloni / Venison / Oven-cooked meats
Vineyard
Vine age:

Between 15 and 25 years

Soil:

Llicorella

Climate:

Mediterranean
Tasting notes
View

Bluish glints / Morello cherry red

Bouquet:

Red fruit / Smoky notes / Higly aromatic / Liquorice

Mouth:

Fresh / Rounded / Pleasant tannins / Mineral
Recommendations
Optimum serving temperature:

Between 15ºC and 17ºC
Customer reviews
VALLIER franck

(13/07/2020) - Vintage 2018

Magnifique

Je suis tombé amoureux de ce vin lors d'un séjour a Barcelone...Belle couleur pourpre pour un vin vif et soyeux, des saveurs de fruits des bois, de raisins sec, avec une acidité maitrisée... magnifique

by:

Dieter

(27/11/2019) - Vintage 2018

Jung, unkompliziert, ausdrucksstark: ein wunderbarer Alltagswein

"Garnatxa" ist auch im Priorat die Rebsorte des Jahres. Rebsortenrein räumte sie fast alle wesentlichen Preise ab, was Winzern vor Ort, die noch auf "variedades que mejoran" setzen, nachdenklich stimmen dürfte. Die Weinkellerei "Scala Dei" setzt indessen mit ihren zehn Weinen fast ausschließlich auf "Garnatxa". Das hat gute Gründe: Die Kartäuser-Mönche haben nach Gründung ihres Klosters "Scala Dei" (1194) über Jahrhunderte hinweg die Überlegenheit der "Garnatxa" in dieser Region festgestellt; zudem sind die kalkhaltigen Böden oberhalb der heutigen Klosterruine geradezu prädestiniert für diese Rebsorte; nicht zuletzt hat Ricard Rofes, seit 2009 Chef und Önologe von "Scala Dei", schnell erkannt, welche einmaligen Chancen er mit der "Garnatxa" in Händen hielt. Der "Scala Dei Garnatxa 2018" ist dabei die erste Stufe einer langen "Gottesleiter". Er demonstriert nicht weniger als den Charakter eines authentischen Priorat-Weines, ein Wein mit konzentriert-reifer Frucht, mit erfrischender Säure, und mit lebendigen Tanninen; jung, unkompliziert, ausdrucksstark. Ein wunderbarer Alltagswein.

by:

Dieter

(10/07/2018) - Vintage 2017

Ein großartiger Alltagswein mit historischen Reminiszenzen

Der "Scala Dei Garnatxa" verkörpert Authentizität und Unverfälschtheit eines Priorat-Weins wie kaum ein zweiter. Es begann, wenn man so will, mit den Kartäuser-Mönchen, die 1194 am Fuße des Montsant-Gebirges das Kloster "Scala Dei" und ihr Priorat gründeten. Interessant: In ihrem ersten "Handbuch über den Weinbau" wird festgestellt: Hier ist es nur wert, Garnatxa und Monastrell anzubauen. Der erste moderne "Scala Dei"-Wein wurde 1974 in Flaschen gefüllt (z.T. noch genießbar, tolle Etiketten!). Vieles aus dieser Zeit wird von Ricard Rofes, seit 2009 großartiger Chef und Önologe von Scala Dei, wieder aufgegriffen, so dass man mit seinem "Scala Dei Garnatxa 2017" die charakteristischen Merkmale der damaligen Zeit im Glas zu haben meint. Für den Alltagsgebrauch konzipiert ist er sehr saftig, fruchtig, ausdrucksstark und einnehmend. Er verführt Nase und Gaumen gleichermaßen mit reifen Früchten, Kirschen, Brombeeren, Johannisbeeren, Süßholz und Kräuter. Jung, unkompliziert, lebendig, erfrischendes Säurespiel, reife Tannine: Ein großartiger Alltagswein mit historischen Reminiszenzen.

by:

Mandrake

(21/09/2017) - Vintage 2016

Quality everyday wine

This is a top quality every day wine , sounds simple but not always easy to find.I can recommend this wine to all who are looking for quality at a reasonable price. Mandrake

by:

Dieter

(13/07/2017) - Vintage 2016

Ein großartiger Wein für jetzt und jeden Tag

Garnatxa und Cariñena prägen das Priorat und machen im Wesentlichen dessen Weine aus. Zunehmend kommen erfreulicherweise beide Reben auch reinsortig in die Flaschen, wobei die Cellers de Scala Dei gerade bei seinen großartigen Einzellagenweinen völlig auf Garnatxa setzen. Dies mag zwei Gründe haben: Zum einen haben die Kartäuser-Mönche beim Aufbau des Klosters Scala Dei auch den Wein und die Garnatxa mitgebracht (erster Wein 1263), zum anderen sind die Böden am Fuße des Montsant bei Scala Dei gerade für diese Rebe so ideal, dass auch andere Priorat-Winzer hier Garnatxa-Parzellen haben. Der "Scala Dei Garnatxa" ist der großartige Einstiegswein dieses Weinkellers, jung und ohne Holz. Er ist nicht für den Keller, sondern für den täglichen Genuss konzipiert, ausdrucksstark, authentisch, sehr saftig, fruchtig und einnehmend. Er überzeugt Nase und Gaumen mit Kirsche, Brombeeren, Johannisbeeren, Süßholz und Kräuter. Unaufgeregt und unkompliziert. Ein großartiger Wein für jetzt und jeden Tag. Tolles Preis-Genuss-Verhältnis.

by:
Wine from Celler Scala Dei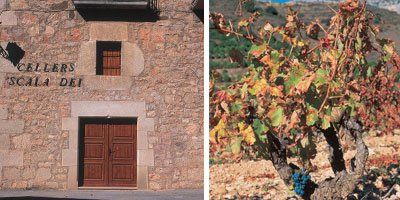 Cellers Scala Dei is the founding winery of DOQ Priorat and a benchmark for quality even before the area was rediscovered in the 1980s. They are heirs to the tradition of the Carthusian monks, who selected the best payments in the region, and were the first to sell bottled wines, in 1973. Forgotten for a time, it has regained its vitality and has become one of the best references in the appellation since it became part of the Codorníu Group and the enology management was ent...
This month's Best Sellers