10% off ANY OF OUR WINES when you buy 6 bottles!

Carles Andreu Trepat Novell
2020
x6 -10%
€7.95
/ btl 0.75 L
(€7.15 x6)
Details for Carles Andreu Trepat Novell 2020
Producer
Alcohol content
13.0%
Bottle size and vintage
0.75 L - 2020
Review
The Carles Andreu Trepat Novell is a wine which brings out the best of the Trepat grape and a simple, direct production method. The Trepat grapes vinified with carbonic maceration, a common method in regions like Rioja, allow Bernat Andreu and his team to offer a perfect portrayal of the Trepat and the spectacular appellation of Conca de Barberà through an extraordinary wine.
This is essentially a primary wine, but not an obvious one — rather, it is a delicate one. It achieves a degree of complexity thanks to its spontaneity, and the transparency and honesty with which the fruit is worked, both on the land and in the winery. In fact, if we couldn't see the label, we might not realize this wine is produced with carbonic maceration. Although its aroma is clearly fruit-based, it is far from the sweeter and more caramelized aromas of other wines produced this way. With this novell (new wine) we find yeast aromas mixed in with ripe wild fruit, mandarin peel, and hints of scrubland. Still crispy in the mouth thanks to carbonic traces which extol its aromas and facilitate a light and barely tannic pass through the mouth, it covers the omnipresent fruit with discrete spices like cloves and pink pepper pods. A body of lightly lactic hints and fragile flowers give it a touch of distinction. Best served quite cool (12º-14º), the Carles Andreu Trepat Novell will bring out the best in even the simplest of foods, such as toast and cold meats, pizza, pasta, mild cheese, or veal carpaccio.
Food pairing
Pizza / Tapas / Barbecues / Semi-cured cheeses / Veal carpaccio / Riojan style potatoes
Recommendations
Optimum serving temperature:

Between 12ºC and 14ºC

Decanting:

Decanting isn't required
Customer reviews
Keith

(18/12/2019) - Vintage 2019

excellent value everday wine

As it's a young wine I serve it at 12-14c. It's not a grand wine to save for special occasions, but its light acidity & full fruit flavours make it ideal for everyday drinking & excellent value for money. It's become one of the few wines that I drink at least once a week.

by:

Emilio

(03/12/2019) - Vintage 2019

Esperaba más..

Vino que se puede valorar por su extrema juventud y la prontitud con que nos llega al mercado, pero lejos de los Beaujolais Nouveau de su rango de precio. No aparece la explosión frutal ni la golosidad de estos.. Creo que la uva Trepat no es para este tipo de vinos, lejos de la Gamay o la Tempranillo, pero si de lo que se trata, es de hacer una cata con vinos de poco más de un mes de vida, es uno que añadir. Se puede probar sólo por curiosidad, poco más..

by:

Keith

(09/02/2019) - Vintage 2018

excellent value young fresh & fruity & easy to drink

I enjoy wines made with indigenous grapes, & which have little or no aging. I regularly drink 'bobal' wines, such as Mestizaje & Sexto Elemento. Carles Andreu Trepat uses mencia grapes to make an easy to drink wine, where fruit is the dominant taste. It's not the wine I'd save for Christmas, but a very good everyday wine.

by:

Dieter

(24/02/2019) - Vintage 2018

Ein schönes Partygetränk, gesellig und süffig

Ob ein "Vi Novell" tatsächlich die Bezeichnung Wein verdient, darüber können sich gerne andere streiten. Natürlich handelt es sich um einen Wein, auch wenn ihn wohl niemand vor dem Kaminfeuer öffnen, zu besonderen Anlässen anbieten, oder gar im Keller länger als zwei, drei Monate lagern würde. Doch was er zu bieten vermag, wird von so manchem goutiert. Er ist extrem jung, frisch, fruchtig, duftig, verführerisch, unprätentiös, anspruchslos, körperlos, unkompliziert, ungemein leicht und schnell zu trinken. Ein schönes Partygetränk, gesellig und süffig. All das trifft auch auf den "Trepat Novell 2018" von "Carles Andre" zu. Zur Erinnerung: Carles Andre wagte 2004 als Erster, die bis dahin in ihrer Heimat "Conca de Barberà" vernachlässigte Rebsorte Trepat sortenrein auszubauen und abzufüllen. Inzwischen ist sie die Signaturrebe der D.O. und wird in unterschiedlichsten Variationen angeboten. Eben auch mit Kohlensäuremaischung als "Novell". Nebenbei: Auf seiner Homepage gönnt "Carles Andre" seinem "Trepat Novell" kein einziges Wort.

by:

Dieter

(14/03/2018) - Vintage 2016

Ein spritziger, erfrischender und unkomplizierter Trepat Novell

Carles Andreu hat 2004 die autochthone Rebsorte "Trepat" als erster reinsortig in die Flasche gezogen, seit 2015 bietet er nun zusätzlich jeweils im November einen sehr jungen Wein an, den "Trepat Novell". Wir kennen diese Art von ersten trinkfertigen Rotweinen eines Jahrgangs z.B. aus dem Beaujolais, oder u.a. auch von Macià Batle aus Mallorca. Ihr gemeinsames Merkmal ist die "Maceració Carbónica" oder Kohlensäuremaischung. Hierbei kommen die vollständigen Trauben in einen CO2-gefüllten Gärbehälter, worin die unversehrten Beeren eine "innere Gärung" durchlaufen, aufplatzen, und fermentieren. Der daraus entstehende Wein ist frisch, fruchtig, meist einfach und süffig, und soll leicht gekühlt und zügig konsumiert werden. Dies trifft auch auf den "Trepat Novell" zu. Er kommt mit einer typischen Purpurfarbe ins Glas; in der Nase eine Kombination aus süßlichen roten Fruchtaromen; auch am Gaumen fruchtbetont, Himbeere, etwas Banane, feine Würze, grün-bittere Länge, sehr geschmeidig. Ein spritziger, erfrischender, unkomplizierter Wein für den direkten Genuss.

by:
Celler Carles Andreu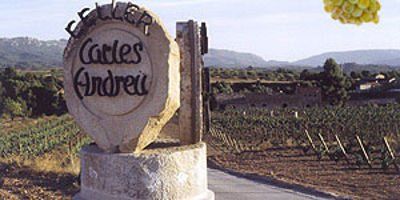 Cellers Carles Andreu started up in 1991, with Carles Andreu at the helm, who had continued the centuries-old family tradition and devoted himself to growing vines. The family presently owns around eighty hectares of vineyards in the Conca de Barberà region, distributed among the municipalities of Pira, Forès, Sarral, Solivella, Barberà de la Conca and Montblanc, where the area's traditional varieties are mainly grown: Macabeo, Parellada and Trepat.
This month's Best Sellers