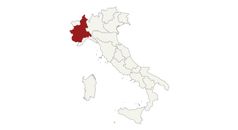 Over 15,000 wineries and more than 40,000 hectares of vineyards, almost all of them in excellently-exposed hills allocated for the production of denomination wines: this is an eloquent demonstration of the primacy that this region has achieved throughout the entire Italian wine spectrum. Certainly, the history of Piedmontese wine has its roots in the Greek-Latin world, then in the Middle Ages and in the Renaissance, when Nebbiolo and Moscato had already beenidentified as products of excellence. But it is basically after the Unification of Italy (1861) that, thanks to far-sighted politicians and agronomists (from Cavour to Quintino Sella to Giulio Einaudi), Piedmont wine became the cradle of a uniquely qualitative experiment, which was able to centre around very high level-names a production destined for international success.
The red-wine region, Piedmont is dominated by his majesty Nebbiolo. A noble vine par excellence, very long-lived, of great tannic character but with an always graceful structure, it offers incredible sensations of jam fruit and fruit under alcohol, but also ethereal and goudron. What benefits from this are the legendary names of the Langhe, from Barolo (38 months minimum ageing, 18 of which in wood: big barrels for traditionalists, barriques for innovators!) to Barbaresco , from Langhe to Alba, where the misty hills, world heritage site, often give small farms beautifully ancient soils, marls, clays, limestones and skeletons. But the numerous northern appellations of the region also benefit (Boca, Bramaterra, Ghemme, Gattinara, Fara, Lessona, Carema), where an older Nebbiolo receives from the soil which is often rocky and hard and with more rigid climates, a strength of even more character, more elegant and thinner than powerful.
Among the reds, the typical triad of Piedmontese vines is completed with Barbera and Dolcetto. The first, soft and enveloping on the palate, traditionally sparkling in the Asti area, offers wines of an extraordinary level from the Langhe to Monferrato up to Tortona, especially in the Superiore type, able to withstand ageing in wood and to challenge the decades. The Dolcetto, fruity and easier to drink, comes from numerous territorialities, from the subtle elegance of Dogliani, which sometimes has a surprising amplitude, to the agility of Diano d'Alba, from the structure of Alba to the opulence of Ovada. More reds? The Freisa, agile and vinous. The Grignolino, also versatile but now, especially in Monferrato, reinterpreted as a great ageing wine. The Ruché, king of Castagnole Monferrato, deeply intense and spicy. And the Croatina and the Bonarda, often used to dilute the nervousness of the Northern Nebbiolo.
Whites? In Tortona stands out the historic Timorasso, of impressive minerality, capable of refinement both in wood and in bottles for whole decades. A little further west, in Gavi, Cortese there is instead a white which is ready, fresh, floral, easy to drink but of great value. In Roero, north of the Tanaro and Alba (land of a younger and less opulent Nebbiolo than in the Langhe), Arneis, to be drunk fresh or slightly evolved, reigns , with its sure success due to its crispy and exotic fruit, sometimes for its tense but polite minerality.
The regional sparkling wine production is centred in the high-hill terroirs of the Langhe, on excellently mineral soils capable of hosting, in addition to interesting Rieslings, Chardonnay and Pinot Noir. Alta Langa is in fact the fourth hub of the Italian classic method bubbles, where the two prince vines, usually in blends and often in vintage versions, produce for connoisseurs profound wines in terms of breadth size and verticality.
But the most appreciated Piedmontese sparkling wine in the world, on the same level as Prosecco, is certainly Asti, a white Muscat of exceptional sweetness, finesse, minerality and vegetality, which enhances its character even if only slightly sparkling, or passito, especially in Strevi and Loazzolo, with sensational results for freshness and almond tension. The southern Piedmont sweet wine is also red, with persuasive wines such as the Brachetto, agile and vinous, and the Malvasia di Casorzo and Castelnuovo Don Bosco, slightly more structured but they too are full of strawberry and cherry. And, towards the Canavese area, the pearl of Caluso: the Erbaluce, a vine able to give wonderful dry wines with a sapid, mineral, almond-flavoured vigour, incredibly long-lived, but above all a passito that, aged in wood for at least three years, produces hints of candied fruit, spice, ether, able of evolving for over thirty years.