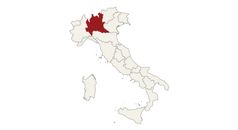 The archaeological finds that tell of the presence of the vine from prehistoric times are only the prelude to a florid and avant-garde enological history, which was already flourishing in the pre-Roman age. The success of "Rhaetian wines" in Roman times and then the encounter with French wine-making techniques made Lombardy one of the most active and futuristic wine regions in the peninsula. Flat, hilly and mountainous, the Lombard territory includes extremely varied soils (from marl to alluvial, from morainic to calcareous) and receives equally varied climates, from continental to mountain to lake.
The nerve centre of heroic Italian viticulture is the Valtellina, where the oldest Nebbiolo in the world is grown on steep stone terraces built since the sixteenth century and on exceptionally permeable sandy soils and they produce reds of extraordinary character, with a broad bouquet and with long finishes, of extraordinary longevity. In the Valtellina area, located in five sub-areas between in which Sassella stands out for elegance and Inferno for richness, the legendary Sforzato is also produced, an extraordinary dry Nebbiolo from dried grapes, an authentic pearl of the region.
An authentic Lombard wine barn is traditionally the Oltrepò Pavese, a magical area of ​​clay-limestone hills where both native vines such as Barbera, Croatina and Uva Rara, and great international ones like Pinot Noir have their natural home. The former grapes contribute to the local reds, be they still, like the big Buttafuoco, or sparkling, like the Bonarda, ideal for the regional cuisine and of an enviable character. Pinot Noir, which here is muscular and imperious, gives rise to personality-filled reds, but above all to an incredible classic blanc de noirs method , which determines one of the greatest Italian spumante wine hubs.
The Lombardy region is equally white. Here dominates the Franciacorta, a region that surrounds Lake Iseo and, from wonderfully mineral and ventilated moraine soils, produces sensational sparkling wines for finesse and vigour, children of a Chardonnay and of a Pinot Noir which here have found a territory of choice. The Franciacorta district today offers not only the Brut classics, but also imposing and refined Riserve, with spumante wines that rest on yeasts even for ten years, and the magical Satèn, a blanc de blancs with particularly fine and creamy perlage.
South of Garda, on the morainic grounds kissed by the warmth of the lake, the magical territory of Lugana, the origin of one of the greatest Italian whites, is pervasive. Here the local Trebbiano, called Turbiana, produces fresh and citrine wines, of standout and endless minerality, destined to a rare longevity which can withstand, with spectacular results, important ageing in wooden barrels. It is not the only gift of the Lombard Garda, which includes, further north towards the Valtenesi, the vast range of the legendary clarets, soft but irresistible rosés that are part of the history of this area.
Other reds? The most suitable areas are the historic ones between Bergamo and Brescia, where, in denominations as small as they are scattered (from Valcalepio to Curtefranca), the international vines stand out, planted here for centuries with very interesting results. And, on the outskirts of Bergamo, around the incredibly rich and sunny crus, the Moscato di Scanzo, a gem of a black passito with an extraordinarily harmonious sweetness