-20% Maison Ferraton Père et Fils: A top-selling Rhône winery. TODAY ONLY!
17h 10m 30s

Rebels de Batea Blanc
2017
Other customers also bought
Details for Rebels de Batea Blanc 2017
Producer
Alcohol content
13.0%
Bottle size and vintage
0.75 L - 2017
Review
Rebels de Batea is a wine with no delusions or false pretensions: its richness rightly lies in its ability to exhibit with the utmost clarity the character shown by old Garnacha Blanca vines in the singular Terra Alta terrain.
Made using traditional methods, with scrupulous respect for the ancestral past of this ancient wine-producing region, the Rebels de Batea Blanco has its stay in barrel kept short to avoid blemishing the noble expression of both variety and terroir.
It is a fresh young wine, with fragrant aromas of peach, pear and apple, and notes of white flowers and nutmeg which imbue it with finesse and elegance. The Garnacha Blanca's typicity is revealed on the palate especially, depicting a strong citrus characteristic, with plenty of volume and considerable sinew. The toasty nuances which appear on the finish endow it with complexity. In short, this is a balanced, most likeable and inviting white.
Without a doubt, Rebels de Batea Blanco is the truest reflection in liquid form of the beauty of this charming Mediterranean region, the Terra Alta.
Tasting notes
View

Straw yellow

Bouquet:

White flowers / Fresh / Nutmeg / Peach / Apple / Pear / Fruit aromas / Floral scents

Mouth:

Balanced / Complex / Toasty notes / Citrus notes / Pleasant / Characterful / Voluminous / Seductive
Customer reviews
Dieter

(19/06/2018) - Vintage 2017

Unaufdringlich, leise, angenehm: Ein vorzüglicher "Terra Alta"

Das karge Hochland "Terra Alta" ganz im Süden Kataloniens fasziniert. Es fasziniert durch seine aufregend schöne, gebirgig-felsige Hügellandschaft, aber auch durch seine spannenden Weiß- wie Rotweine. Alles überragend sind bisher jedoch die Weißen aus der Signatur-Rebsorte "weiße Garnatxa". Nicht wenige davon haben jüngst geradezu einen Qualitätssprung hingelegt. Dies betrifft in erster Linie Weine der renommierten Weinkeller, aber auch die einiger "junger Wilder", die zu Recht Hochachtung und Anerkennung ernten. Der "Rebels de Batea" aus dem bewundernswerten Torres-Projekt "7 Magnifics" definiert seine Ansprüche allerdings auf einer anderen Ebene. Zu erwarten ist ein vorzüglicher Alltagswein, angenehm, ausgeglichen, mit gewisser Eleganz und Finesse, doch nicht wirklich mit einer tiefen Persönlichkeit. Sind die "Rebellinnen von Batea" auf dem Etikett mit ihrem fünften, dem 2017er Jahrgang zufrieden? Im Glas glänzendes Strohgelb; Zitrusnoten und frischer Wiesenduft in der Nase; im Mund weiße Früchte, erfrischende Säure, pfeffrige Würze; lebendig verspielter Abgang. Unaufdringlich, leise: ein vorzüglicher "Terra Alta".

by:

Dieter

(20/07/2017) - Vintage 2016

Ein wunderbarer Wein für den Alltag, zurückhaltend, unaufgeregt, erfrischend

Die Weine von Terra Alta, dem südwestlichsten D.O.-Gebiet Kataloniens, kann man zu den Gewinnern der letzten Dekade zählen. Zunehmend erfolgreich wird versucht, wegzukommen von der namenlosen Massenware, um stattdessen mit klasse Weinen zu beweisen, dass Terra Alta über bestes Terroir verfügt. Vor allem die Rebsorte Garnatxa blanca erfährt weit über Terra Alta hinaus hohe Anerkennung, und sie ist seit einiger Zeit sogar offiziell Aushängeschild der D.O. Terra Alta. Es liegt deshalb auf der Hand, dass sich das Torres-Projekt "7 Magnifics", das Identität und Authentizität verschiedener katalonischer D.O.-Gebiete widergeben möchte, diese Rebe für seinen weißen Terra Alta-Wein ausgewählt hat. Das Resultat, der "Rebels de Batea Blanca", ist durchaus gelungen. Zitronensaftgelb im Glas; gutes Aroma aus Zitrusnoten und dichter Bergwiese; helle Früchte, angenehmes Säurespiel, pfeffrige Würze; verspielter Abgang. Ein wunderbarer Wein für den Alltag, zurückhaltend, unaufgeregt, erfrischend. Ein leiser Begleiter für leichte Speisen, aber auch zum Träumen. Ein Gewinn für Terra Alta.

by:

GMD

(20/07/2017) - Vintage 2016

Toller fruchtiger Wein

Kräftiger Weißwein mit fruchtigen vielschichtigem Körper. Sehr zu empfehlen zu kräftigen Speisen oder nur so zum genießen! Auffallend das ungewöhnliche Etikett. Ein Wein, der nicht häufig angeboten wir, bei dem Preis und Qualität passen.

by:

Alberto

(04/01/2017) - Vintage 2015

Muy rico

Vino muy rico. Fuera de los típicos verdejos. Con un sabor diferente. Muy recomendable para acompañar pescado o simplemente tomar solo.

by:
7 Magnífics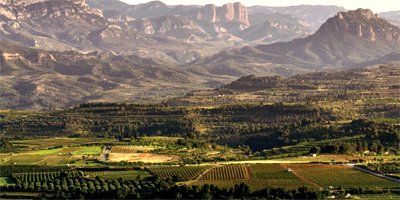 7 Magnífics is a collection of seven high quality wines, created with a very clear aim in mind: to be the true reflection of a terroir, climate and landscape, and also the local people. A collection of seven wines which magnificently convey the wine-making past and present of some of the most historic Catalan denominations. To launch the collection are two wines from the Terra Alta DO: Rebels de Batea, a Garnacha Blanca and a Garnacha Tinta, two wines capable of transformi...
This month's Best Sellers