Ribeira Sacra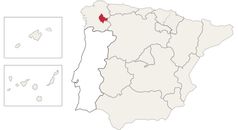 This wine-producing region in Galicia is one of the most fascinating in the country, due to both its spectacular countryside and the personality of its wines, which are finding more and more favour. Working in vineyards there is quite a risky business due to the steep inclination of the slopes where the vines are planted, often in not easily accessible places. These slopes are the result of the course of the rivers Sil and Miño, which flow down from among the mountains in the Galician interior and create picture postcard images of vines planted on terraces sloping down towards the river.
The area has been traditionally known for producing red wines that are light and fruity, but an increasing number of wineries are venturing to bring out quality white wines. Historically, the most-widely used red grape variety, and the one which gives the most distinctive wines, is the Mencía that comes over as smoothly textured, silky and balanced. Among the whites, which are not so well-known but with definite potential, those made using the Galician classics, Albariño or Godello, are held in high regard and are very suitable for barrel fermentation.
Situated between the south of Lugo and the north of Ourense, this singular mountain relief and the long stretches of valleys running along the rivers Sil and Miño mean that a diverse collection of soil types and microclimates are encountered. Therefore, the DO has divided the vine-growing area into 5 sub-zones according to their particular characteristics: Amandi, Chantada, Quiroga-Bibei, Ribeiras do Miño and Ribeiras do Sil. The soils have a high level of acidity and are mainly composed of slate and granite. As this is an inland region of Galicia, the climate is Atlantic with some continental influences and there is abundant rainfall.