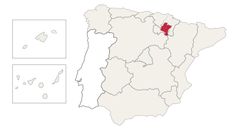 During the Roman Empire vine cultivation was widespread throughout this region, but it was especially during the Middle Ages, as Navarra became a powerful kingdom in its own right, that its wines became more famous. Pilgrims, passing through the area on their Way to Santiago, tasted the wine and, recording comments in their diaries, described it as "excellent".
Navarra has traditionally been known as Spain's great rosé wine producer, but nowadays the situation has changed with a gradual tendency to move over to the production of quality red wines. Although historically the Garnacha has been the most popular variety, over recent years particularly in its southern zone the Tempranillo grape has been planted and now exceeds the surface area of Garnacha. Other grapes chosen for planting that are giving highly satisfactory results are Cabernet Sauvignon, Merlot and Chardonnay.
From north to south, Navarra could be described as resembling a small country: the Pyrenees form a border with France to the north, while in the central part the slightly undulating ground supports cereal fields, market garden produce and vineyards, and to the south there is a vast semi-arid area through which the River Ebro flows. This means that the DO is divided into 5 sub-regions lying to the south of Pamplona, although they generally share a continental climate (with an Atlantic influence in the northern sub-zones) and brownish-grey limestone soils that are poor in organic matter. These are the sub-regions: Valdizarbe, Tierra Estella, Baja Montaña, Ribera Alta and Ribera Baja.