Free delivery over £50
Club Vinissimus Selection January 2022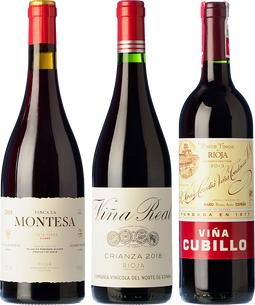 The three Riojas
DOC Rioja is a privileged land for producing top quality wines. Over 65,000 hectares of spectacular vineyards, which are principally home to red varieties and a range of different styles of wines, although the region is best known for its prestigious Crianzas. Tempranillo is the star grape, a variety which works wonderfully well alone or alongside other traditional local varieties such as Mazuelo, Grenache, or Graciano. The river Ebro meanders through the region creating a mosaic of different microclimates which, combined with different landscapes and soil types, form the three sub-zones of the appellation known as: Rioja Alavesa, Rioja Alta and Rioja Oriental.
The Rioja Alavesa winemaking region enjoys a continental climate with only a moderate Atlantic influence due to the natural barrier created by the Sierra de Cantabria mountains, whereas a more noticeable Mediterranean influence makes it warmer than Rioja Alta. Its chalky-clay soils are home to strong wines with a medium level of acidity and all the qualities you would expect from long ageing processes in barrels and the bottle, a prime example being the Viña Real Crianza 2018.
The damp and mountainous Rioja Alta region, located to the south of the river Ebro has a continental climate with an Atlantic influence which, together with its poor soils, produces medium-strength wines with a full body and plentiful acidity, ideal for ageing in oak. A style of wines usually considered to be the typical traditional Rioja red wine. Our recommended example is Viña Cubillo 2013, from the great Viña Tondonia winery.
Rioja Oriental experiences a significant Mediterranean influence. Warmer temperatures and lower rainfall, added to lower altitude vineyards and alluvial soils, mean grapes grown here have a stronger potential. When a top winery like Palacios Remondo uses their skills and knowledge to the full, we can come across extremely well-balanced wines such as their La Montesa 2018.
This month's Best Sellers