Up to 15% off over Priorat and Montsant, two sides to the same region
What is rosé wine
Why is it a pink colour? Does the depth of colour depend upon the type of grape? Which grape varieties are most often used for the production of rosé wines? What about for sparkling rosés?
How is rosé wine made?
Rosé wine comes from a process entailing the maceration of red grapes for just a few hours, sufficient time for obtaining the colour, structure and elements required by the producer. If we compare it with a red, a rosé may macerate for 6-12 hours whereas a red would take 6-12 days or longer. They'll have more colour or less depending on how much time the must spends in contact with the skins, at what temperature, as well as the variety's colouring potential or the terroir's particular characteristics.
Skins of White, Grey and Red Grenache grapes after a 24 h maceration to produce the Abrunet Rosé of Celler Frisach (Terra Alta).
Production methods: direct pressing, saignée or free-run, blending
Not all rosés are produced in the same way. Some are obtained by direct pressing, without maceration. In this case, the grapes are subjected to a very gentle pressing and sufficiently slowly to enable the must to pick up pigmentation and aromas from the grape skins. This is how rosés of a really pale colour are obtained. Another method is known as saignée (bleeding off) or free-run: with the grapes macerating in the tank, the must makes its way down towards the bottom to be finally drawn off, free run. This natural method of pressing, due to the effect of gravity, occurs because the must is dense and heavy, since it contains all the weight of the yet unfermented sugars. When only a small percentage of the must is drawn off, between 5% and 15%, leaving the rest to continue the process for making red wine, this is usually the method used for Rosados de Lágrima, a type very often found among the rosés of Navarra in Spain.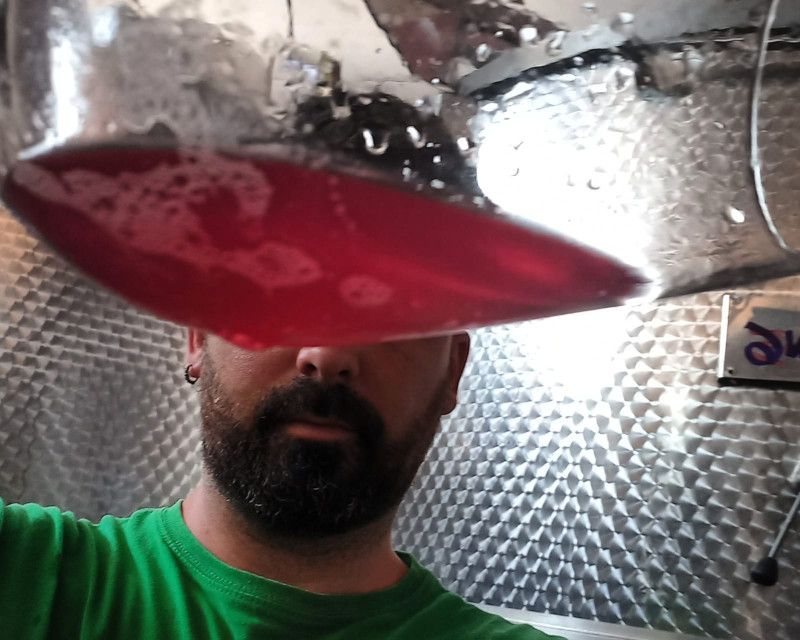 Colour of the rosé just bled off the tank after a 24 h maceration of White, Grey and Red Grenache grapes (Abrunet Rosat, Celler Frisach, Terra Alta).
Rosés can be produced from red and white grapes too: these are known by their Spanish name of Clarete rosés or Claretes. They follow the same process, with the difference being that a mixture of both red and white grapes are blended in the maceration tank. Also in Spain, the Ribera del Duero denomination has been bringing back this sort of wine-making procedure, so common in the past.
In the production of Rosé Champagnes, the blending method is very widely used, adding a certain amount of red wine to the final blend. This is how colour and character are obtained. However, cuvées produced by the saignée method are becoming more frequently found, made by using red Pinot Noir and/or Meunier grapes, or with a blend of red and Chardonnay grapes.
Which grapes are the ones most often used in the production of rosé wines?
Grenache and Cinsault are the most usual on French soil, but Cabernet Franc and Gamay are normal too. In Spain, Grenache is also the star variety of rosé wine, although you can come across rosés made from almost any type of grape: Tempranillo, Syrah, Merlot, Prieto Picudo... In Italy, the main varieties are Negroamaro and Montepulciano, followed by Nerello Mascalese, Primitivo and Gaglioppo.
Which grapes are most often used in the production of rosé sparkling wines?
Rosé Champagnes are made from Pinot Noir and/or Pinot Meunier grapes, but also mixed with Chardonnay. For producing Rosé Proseccos, only a blend of Glera and Pinot Noir grapes is allowed, and just with a small percentage of red grapes, between 10-15%. Among Rosé Cavas, there's a great deal of diversity: the most commonly used varieties are the native Trepat, Garnacha and Monastrell, however Pinot Noir very frequently puts in an appearance too, and regularly found are both single varietals and blends of several varieties, reds or reds and whites.
Which regions have traditionally been more committed to rosé wine production?
The appellations in France which are most engaged in rosé wine production are those bordering the Mediterranean: in the regions of Provence and Languedoc-Roussillon. In Spain, Navarra and Cigales have become the two leading names traditionally associated with rosés, although nowadays top quality branded wines can easily be found in most denominations: Rioja, Penedès, Empordà, Ribera del Duero... The best offering of Italian rosé wine has always been concentrated in the southern half of the country, with its Cerasuolos d'Abruzzo, and especially in Salento but also Sicily, although the rosés of Lake Garda are fast gaining fame and Lagrein grapes produce some interesting ones in Alto Adige.