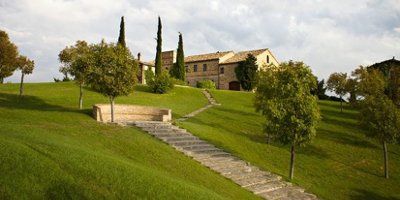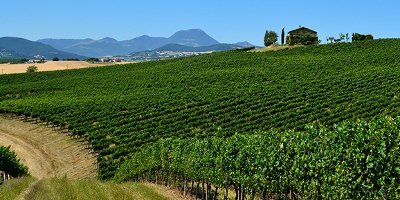 The Tavignano Estate was purchased in 1975 by Stefano Aymerich di Laconi, of Sardinian and Spanish origins, and his wife Beatrice Lucangeli, descendant of a family from the Marche region with an ancient tradition in wine production. Tavignano is a 230-hectare property in a single piece of land overlooking the countryside of Cingoli, which has always been known as the Balcony of the Marche. The estate was restructured carefully, respecting the authenticity of the place and, in the early years, the business concentrated on the cultivation of cereals, vegetables and forage.
In the '90s the decision was made to promote the present wine heritage and become producers of native varieties, in contrast with the fashion of the time that favoured the international ones, convinced of the great potential of the main vine of these lands: the Verdicchio. Already in 2006 the first important recognition came: the three glasses of Gambero Rosso for Misco Riserva. Since then the awards have consistently followed one another. In 2017 Gambero Rosso awarded the Misco 2015 with the "White of the Year" award, naming it the best white wine in Italy.
Fully sustainable in the vineyard, the Estate also has a very low environmental impact in the cellar. The cellar is the place where the secrets of the winemaking process are kept. It is a modern structure, dug underground to keep the temperature under control at a natural level with minimum use of energy.
The cellar operations are oriented to preserve the original characteristics of the grapes. The vinification of the white wines is carried out with soft pressing of the grapes for the extraction of the must while the fermentation takes place at a controlled temperature. To guarantee the preservation of the nature of the wine, the Estate prefers for all white and rosé wines ageing in steel on fine lees. The red wines are produced through long fermentation in contact with the skins, malolactic fermentation for almost all the labels in the range and maturation in barriques and barrels for the second and third phases.
Year founded

1973

Enologist

Giulio Piazzini

Bottles produced per year

100000