Free delivery over £200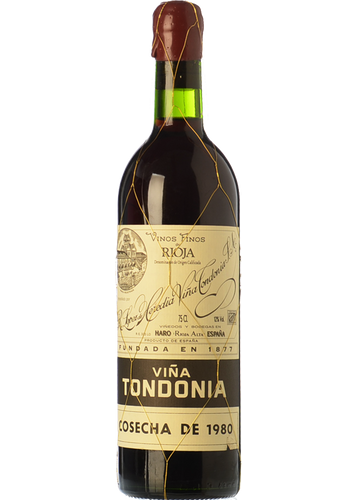 Viña Tondonia Gran Reserva Histórico
1980
Delivery in 24-48h

Free delivery over £200

Insurance included & returns guarantee

4.74/5 Evaluation from Trusted Shops
Spec sheet
Type
Red Wine
Region
Grapes
Producer
Allergens
Contains sulfites
Alcohol content

i

12.0%
Production
36,000 bottles
The wine
Viña Tondonia Gran Reserva wines are very rich and elegant, eminently appealing and satisfying. Their lengthy ageing, lasting ten years, with racking carried out by hand twice a year, endows them with certain special characteristics that make them particularly long-lived; these are wines which, if they have been kept well, can be enjoyed after a period of many, many years.
The Viña Tondonia Gran Reserva is a delicate wine, with a very fine nose, dry and smooth on the palate, rounded and precise, as are all the wines from this emblematic company, a wine which will always be remembered and proves a delicious accompaniment to meats, poultry and fish without too much seasoning. It is the ideal wine for extra special celebrations and occasions.
If drinking a Gran Reserva from Viña Tondonia really is a little luxury and having a bottle in the cellar equates to owning treasure, being able to get hold of one of their most memorable vintages is a real privilege, within reach of few, and not just because of its price: Viña Tondonia only offers its historic wines to a very small number of customers, rewarding their loyalty, and this occurs on rare occasions when a very limited number of bottles are secured.
-----------------------------------
Storage conditions for the historic wines now available from Vinissimus
Vinissimus would like to inform its customers that bottles of the historic vintages of Viña Tondonia and Viña Bosconia are not being stored in our fine wine cellar but in the actual underground cellars of Bodegas R. López de Heredia, in Haro (La Rioja), the best guarantee that the wine has always been kept in optimum conditions.
Bottles will only leave the winery in Haro to be sent to customers who have requested them in their Vinissimus orders, in special packaging deemed fit by the actual winery, so that the best possible care is taken of them during transit.
Information about the characteristics of the bottles and returns guarantee
A customer who purchases one of these historic bottles should be aware that the wine and bottle are very special, with no entitlement to a refund.
Since the bottles have been resting in the winery's cellars for many years, at a constant temperature with high humidity, not only can they acquire mould and dust, but this will be left on the bottles, and they will be dispatched exactly as they are, in their natural state, as an additional proof of their true age.
Moreover, due to the fact that these bottles have been filled by hand and have been ageing over a long period of time, the height of the wine in the bottle neck is always irregular, even including wines from the same vintage. These wines have been bottled, sealed and labelled by hand.
Returns will only be accepted in the case of bottles verified as corked and the defect will need confirmation from the winery itself. In such an eventuality, the customer should send back the bottle with its contents, cork and original packaging, to the address as notified by Vinissimus. A new bottle will be sent out, only if the defect is confirmed by the winery.
Recommendations for enjoying a historic wine
After you have received the wine, you should allow it to settle for at least a week, preferably in a quiet, dark, cool place. The storage temperature and humidity should be constant. Humidity between 70-80% and temperature between 18-20º C.
If you decide to decant the wine, we recommend doing this carefully and allowing the wine to settle in the decanter for at least an hour before serving. Take great care when pouring, trying not to move the decanter unduly.
If you decide not to decant, we also recommend letting the bottle settle by keeping it vertical for an hour, so that any possible sediment remains at the bottom. Care should be taken when opening the bottle, since a cork may lose its elasticity over the years. Pour the wine with care, ensuring minimal movement of the bottle.
Drinking and storing
Serve between 18ºC and 20ºC
Winemaking
| | |
| --- | --- |
| Ageing period | 96 months |
| Barrel age | Used |
| Type of wood | American oak |
| Clarification and filtration | Unfiltered |
The winery
Bodegas R. López de Heredia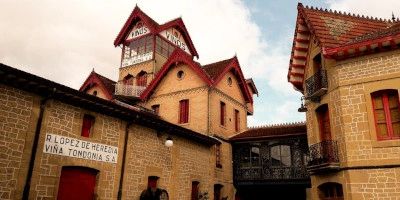 R. López de Heredia (Viña Tondonia) is one of the names which inspires most respect and admiration with regard to wineries producing "fine wine". It is, moreover, the oldest winery in the emblematic town of Haro and one of the first three set up in La Rioja.
>>
Other customers also bought
This month's Best Sellers
Special offer available for a minimum purchase of £99. Discount voucher valid for four weeks from issue date. Cannot be used in conjunction with other promotions except for the free delivery special offer.