Doix Costers de Vinyes Velles
2016
With a unique character and limited production, Doix Costers de Vinyes Velles is made from a mixture...
Other bottle sizes and vintages
Doix Costers de Vinyes Velles 2016
Producer
Alcohol content i
15.0%
Bottle size and vintage
0.75 L - 2016
Review
With a unique character and limited production, Doix Costers de Vinyes Velles is made from a mixture of Grenache and Carignan grapes harvested from vines over a hundred years old, planted in 1902 on slate soil hillsides at heights between 350 and 500 metres. The utmost care and attention is paid to choose only the best grapes, both on the vine and before processing, to ensure the quality of the wine. Each plot is vinified separately using a technique of total maceration to maintain solid elements of the grapes within the must during fermentation to obtain an excellent extraction of aromas and colours from the grape skins. The wine is aged for 16 months in new French oak barrels before being bottled, unclarified and unfiltered.
The result is an intense cherry-coloured wine with creamy aromas. Notes of mountain herbs, dry stone and ripe dark fruit such as blackcurrants, blackberries and blueberries embellish a powerful palate of mature tannins and sweet spice (vanilla, cinnamon, and cloves). An elegant floral feel alongside a perfectly integrated acidity give balance to its full and powerful mouth and create a flavoursome and moderately strong result. Every sip offers a reminder of its time spent ageing, with smoky hints of coffee and wood carvings. An impressively fleshy wine, it delights with layer after layer of fruit over hints of dry leaves and mountain herbs. The intensely mineral slate adds aromas of graphite which, though clearly recognizable, blend into a sea of fragrances and sensations.
Doix Costers de Vinyes Velles has all the harmony and elegance of a great Priorat red. Floral, fruity and elegant, thanks to Grenache grapes, whereas Carignan gives it a wild rustic touch. It will only improve in the bottle over the years but already offers volume, width and tenacity for enjoying now. An unforgettable wine that is sure to leave its mark.
Vineyard
Vine age:

Between 100 and 110 years

Soil:

Llicorella

Climate:

Mediterranean

Yields:

Very low yields
Production
Ageing period:

16 months

Barrel age:

New

Type of wood:

French oak

Clarification and filtration:

Bottled unfined and unfiltered
Recommendations
Optimum serving temperature:

Between 16ºC and 18ºC

Decanting:

Decanting is recommended
Customer reviews
Dieter

(30/10/2019)

Tolles Flaggschiff von Mas Doix

Vor ziemlich genau zwanzig Jahren begann mit dem ersten "Doix"-Jahrgang die außergewöhnliche Erfolgsgeschichte von "Mas Doix". Allerdings dürfte es für das Weingut kaum eine aufregendere Zeit gegeben haben als im aktuellen Jahr: Zwanzigjähriges Bestehen; Umzug in das neue, zukunftsorientierte Kellerei-Gebäude mit überwältigendem Blick über die Weinberge nach Poboleda und zum Montsant-Gebirge; Einführung des lange erwarteten weißen "Murmuri" (endlich!); Eingehen einer Partnerschaft mit "Lede Family Wines" aus Kalifornien. Dazu: Alle aktuellen Mas-Doix-Weine wurden von "Parkers-Mann-vor-Ort" jüngst mit 92 bis 97 Punkten bewertet. Die Mas-Doix-Top-Bewertungen gingen an die sortenreinen Mikro-Editionen "1902" und "1903", das Flaggschiff des Weinguts bleibt jedoch nach wie vor der "Doix". Dessen Erfolg basiert auf "Mas Doixs" einmalig-alten "Costers de Vinyes Velles". Sie liefern die Carinyena (55%) und die Garnatxa (45%) für die seit 2009 konstante "Doix-Cuvée". Auch der "Doix 2015" ist, trotz besserer Jahrgänge, eine Wucht: vielfältig, intensiv, komplex, fordernd, gleichzeitig vital, frisch, elegant und harmonisch. Tolles Flaggschiff!

by:

Dieter

(03/04/2019)

Der Vorzeigewein von Mas Doix

Vorzeigewein und Aushängeschild des bis 1850 zurückzuverfolgenden, hoch einzuschätzenden Weinkellers "Mas Doix" ist seit dessen Neubeginn mit dem Jahrgang 1999 der "Doix". Obwohl inzwischen durch zwei sortenreine Ausnahmeweine in Kleinstauflage nach oben arrondiert, dem "1902"-Carinyena und dem "1903"-Garnatxa, hängt zweifellos der exzellente Ruf der kleinen Mannschaft um Valenti Llagostera von einem ständigen, Jahr für Jahr außergewöhnlichem Gelingen ihres "Doix" ab. Die Voraussetzungen hierfür sind allerdings geradezu einzigartig. Es sind Rebstöcke, die bereits 1902, kurz nach der Phylloxera-Katastrophe, von einem Doix-Vorfahren gesetzt wurden. Sie liefern für die seit 2009 konstante "Doix-Cuvée" die Carinyena (55%) und Garnatxa (45%), meist nur eine Handvoll Trauben pro Rebstock. Das Resultat im Glas ist auch beim "Doix 2014", trotz Abstriche zum 2013er, überaus beeindruckend. Im Mund ein Feuerwerk aus dunklen Früchten, Pflaume, Maulbeeren, Feigen, geröstete Maronen, Lakritze und Moos, kraftvoll, konzentriert, intensiv, fordernd, unglaublich komplex, gleichzeitig vital, leicht und frisch. Sehr ausbalanciert, extrem lang. Ein Vorzeige-Priorat.

by:

Dieter

(01/06/2018)

Ein einzigartige Weinerlebnis

Der "Doix 2013" ist nicht nur ein außergewöhnlicher Wein, er weiß auch zu begeistern. Als erstes erfährt dies die Nase beim Karaffieren, doch das ist nur das Vorspiel. Der "Doix" gilt zu Recht als das Aushängeschild des kleinen, hoch einzuschätzenden Weinkellers "Mas Doix" in Poboleda, dessen Aufstieg erst 1998 durch einen beherzten Neustart begann. Der "Doix" soll an die alteingesessene Winzerfamilie Doix und deren unschätzbaren "Costers de Vinyes Velles" erinnern. Hier wurden Anfang des letzten Jahrhunderts, kurz nach der Phylloxera-Katastrophe, zum ersten Mal wieder resistente Rebstöcke gesetzt. Deren Wurzeln dringen inzwischen 15m tief durch den Llicorella-Schiefer, der Ertrag pro Rebstock ist oft nur eine Hand voll Trauben. Was daraus gemacht wird ist jedoch unglaublich vielfältig, reich und komplex. Kein Priorat-Hammer, sondern leicht, vital und frisch. Im Mund umwerfend intensiv, harmonisch, elegant und ausbalanciert. Ein Feuerwerk aus dunklen Früchten, Feigen, Süßholz, gerösteten Maronen, Lakritze, Moos, Kirsche und Zeder. Ein einzigartiges Weinerlebnis.

by:
Celler Mas Doix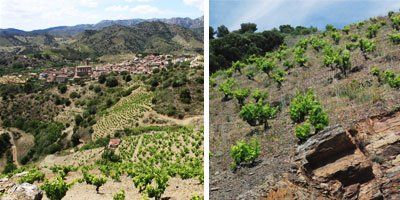 Created by the Doix and Llagostera families in 1998, Celler Mas Doix goes back to a wine-making tradition that started out in 1850. Five generations of history linked by a passion for wine and caring for vines in the Priorat, making exclusive wines, with a strong personality and character that can inspire and stimulate conversation… wines for sharing.
This month's Best Sellers