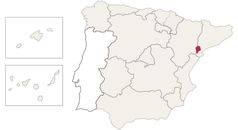 Situated in the south of Tarragona province and bordering Aragón, Terra Alta covers a relatively small area in square kilometres. This is a land of fruit trees, olive groves, delightful towns, amazing mountain scenery, grand bodegas, beautiful countryside and, naturally, vineyards - all watered by the River Ebro as it passes through, on its final stretch before reaching the sea. Vines have been cultivated for centuries in this Catalan district, with the local wines greatly admired for their body and high alcoholic strength. These days, when effort is put into the land and care taken over production, the result is wines with character and personality. Wines well worth discovering.
Wines which have been bringing fame to the region are reds produced using Garnacha and Samsó (Cariñena) grapes that render opulent wines, meaty yet fresh at the same time. In recent years, other foreign varieties have been introduced, such as Cabernet Sauvignon and Syrah. Although, if one particular wine has made Terra Alta famous, it is the white Garnacha Blanca, the region's main variety and the one chosen for making a positive stand. It creates a distinctive white wine, with plenty of body, unctuous and fruity.
Lying in an area of outstanding natural beauty, midway between the Mediterranean and the Iberian System, its climate is extreme but tempered by proximity to the sea. The vineyards are planted in valleys and on undulating ground that provide interesting microclimates. This, along with the poor, clay-chalk soils, endows the grapes with character that then becomes transferred to the wine.