La Mancha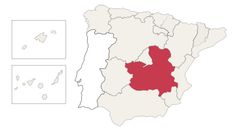 Located between the autonomous region of Madrid and Andalucía, La Mancha is the largest vine-growing region in the world. Its vineyards cover a vast area of land that includes the provinces of Toledo, Cuenca, Ciudad Real and Albacete.
Despite the fact that many cooperatives continue to operate in bulk and table wine production, an ever-increasing number of wineries are aiming for quality and bottling their wines in order to compete on an equal footing with other Spanish regions. The most widely-grown black grape variety is the Cencibel (Tempranillo) that produces meaty, warm wines. As for white, production has been based on the indigenous variety Airén which results in light, fresh, fruity wines. More recently, foreign varieties have been added to achieve better balance.
There is little variation in altitude and soil type within this DO, and along with the extreme continental climate so characteristic of the region, the result is a relatively uniform aspect to flavour, aroma and texture, but with subtle distinctions achieved by the wine producer's own expertise. It is due to the oenologists, vine growers and modern techniques introduced into cultivation and production that in recent years, wines have improved dramatically in quality and can now compete with the best wines both nationally and internationally.