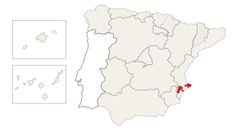 Located in the most southerly area of the Community of Valencia, the Alicante DO is divided into two sub-zones: La Marina, which stretches as far as the Cabo de la Nao headland, and Alicante, which encircles the city and includes the River Vinalopó valley. They both enjoy a decidedly Mediterranean climate.
Historically, the region had become famous in the past for the internationally acclaimed Fondillón, a type of rancio wine made from over-ripened Monastrell grapes aged for a long period of time. This wine had become a firm favourite with royalty and nobility for centuries.
Although more recently foreign grape varieties have been introduced, the fresh, fruity white wines made from the Moscatel grapes of the La Marina area are of particular note, along with the reds produced from this Levant region's traditional grape, the Monastrell, which provides meaty, well-structured wines.