Valtellina Superiore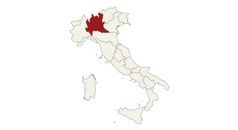 Among the regions of heroic and mountain viticulture in Italy, Valtellina certainly occupies a place of honour. The south-facing slope of the upper Adda Valley, a natural bridge between Lombardy's lakes and the Swiss Alps, is extraordinarily rich in vineyards, laid out on ancient terraces built by hand since the 16th century. Snow, currents, day/night temperature ranges from 5 to 35°C, summer heat and, above all, soils that are as steep as they are precious, rich in sand, clay and silt, give the wine an amazing structure, finesse and longevity.
In the five Valtellina wine areas, all characterised by a particular personality, the local Nebbiolo, probably the oldest in the world, has found a chosen land in which to express all its austere power and surprising finesse, framed in typically soft colours and deep scents of the mountains: the fine and velvety Grumello, the sunny and rich Inferno, the austere and grand Sassella, all aged for at least two years in large casks (three for the Reserves).
And mention must be made of the majestic Sforzato, which is an appellation in its own right, produced from raisined and vinified dry Nebbiolo grapes, the guardian of a power and roundness that the true lover of these mountains and of this amazing vine cannot fail to appreciate. Food pairings? A hearty Valtellina dinner with bresaola, pizzoccheri and salmì game would be the best base to start tasting these monuments of mountain oenology.