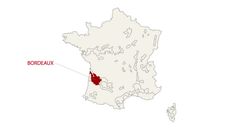 The AOC Pessac-Léognan covers one of Bordeaux's most ancient wine-producing districts and contains parcels which appear in documents dating back to the year 1423. Located on the outskirts of Bordeaux city, it acquired its own appellation in 1987, when it split from the rest of the Graves vineyards and assumed the name of two of the region's most emblematic towns. Nowadays, it comprises all the Graves Grands Crus.
Its approximately 1,500 hectares are planted on soils composed of gravel and small round pebbles, with sand and clay in the subsoil, and enable red varieties such as Cabernet Sauvignon, Merlot, Cabernet Franc, Petit Verdot and Malbec, and also white grapes like Sauvignon Blanc and Sémillon, to exhibit a strong character that defines its typicity, the individual style of the Pessac-Léognan wines.
In this corner of Bordeaux, the soils hold more gravel than in the rest of Graves and the best châteaux are established on estates there, for example Château Pape Clément (with over 700 years of history), Domaine de Chevalier and Château Haut-Brion, the region's sole premier cru included in the 1855 classification. The area has received significant amounts of investment in recent years and now produces a quarter of the Graves region's wine.
Pessac-Léognan makes both red and white wine, but the red, which accounts for between 75-80% of total production, is its star product. They are wines in a similar style to those of the Médoc, refined and with a good structure, and have intense minerality. They appear an intense, deep Picota cherry colour, and exude powerful and complex aromas of ripe forest fruits, liquorice and violets; they also develop smoky notes and hints of toasted bread. On the palate, the Pessac-Léognan red wines prove meaty, balanced and reveal firm tannins; perhaps not attaining the Médoc's tannic backbone, nor the Saint-Émilion's captivating fruit, but they prove extremely fine and very well-balanced, with lovely notes of cherry, tobacco and chocolate enhancing a harmonious and most pleasant finish.
The whites, limited in number, are some of Bordeaux's best, voluminous, fresh and capable of ageing marvellously; in spite of being more marginal, they continue improving with each vintage and gaining in popularity. They are usually fermented in barrel and are produced using pellicular maceration, with the aim of developing the aromatic element; they are made primarily from Sauvignon Blanc, and as a single varietal too. Their fruit, sometimes almost tropical, becomes honeyed after time in bottle; the pale, bright hues of its youth turn golden as the wines age. On the nose, they are concentrated, individual and very well-balanced. The Sémillon gives body and, thanks to a more neutral aroma, assimilates the barrel better; the Sauvignon provides liveliness and fruit; the overall result is creamy, fresh and showing excellent balance.