Montsant VS Priorat, Acustic and Les Crestes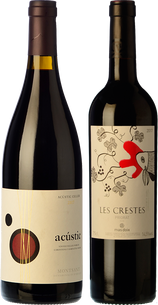 The DO Montsant and DOQ Priorat are two neighbouring appellations with many factors in common, but also with clearly different characters. Montsant is often linked to rounded and pleasant wines, whereas Priorat usually brings to mind power and minerality. Choosing between the two is no easy task. The selection of wines we offer today include two representative wines from each appellation. There is no need to come down in favour of one of the appellations, when you can get double the enjoyment by trying excellent wines from both sides of the same region.
Granite, slate or chalky clay at different altitudes and orientations but, in essence, they all share the same character of the province of Priorat where both appellations rub shoulders. Four great wines which give a clear and quick insight into the creative innovation taking place in winemaking in southern Catalonia.
Our first duel features two wines with plenty in common: Acústic 2017, by Albert Jané, a true reference wine from Montsant, and Les Crestes 2018 from Priorat, the most direct red wine by Mas Doix. The former is a discreet wine with fine tannins whose charm is based on the two historical local grape varieties, Carignan and Grenache, and a classic ageing process with 10 months in French oak. Les Crestes is a gem of a wine also made principally from Grenache and Carignan but with a touch of Syrah and aged in French oak barrels too.
Other customers also bought
This month's Best Sellers