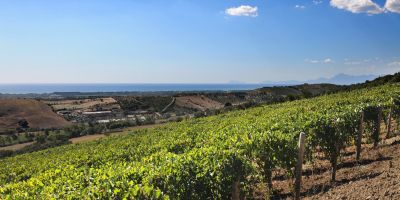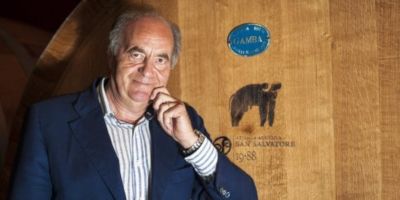 Few people knew of the wines from Cilento until Peppino Pagano started to make wines here some years ago. Although Cilento, and the whole southern part of the region of Campania, have a long history of winemaking going back to ancient times, Cilento is located beside very well-known appellations, such as Avellion, which have overshadowed the spirit and traditional identity of this sub-region. Its little-known winemaking tradition inspired Peppino Pagano's revolution in Cilento, and he made a strong commitment to a combination of winemaking and wine tourism at his winery in this area which, at that time, was basically known for its spectacular coastline and the ancient Greek temples in Paestum.
The San Salvatore winery could be considered an all-round business; besides its winemaking, it has a restaurant and agrotourism facilities, and also organizes a route of local archaeological sites and fields of buffalo which they keep for making mozzarella cheese. Their vineyards are located in different areas of Cilento and have certificates confirming they are run under organic and biodynamic agriculture methods.
Some may think the winery's catalogue is too wide-ranging but actually it offers a reasonable selection for all tastes, and also includes many top-quality wines in different styles. The hand of Riccardo Cotarella can be seen in this selection, a winemaker who's collaborated with San Salvatore since their outset, bringing balance and seriousness to their wines. Some of Salvatore's wines are also inspired by the recently-departed top 20th century art critic Gillo Dorfles, who was a great fan of Cilento and its National Park.
Their Fiano wines have a fresh flavoursome style with marine hints and are richer than Fianos from Avellino. This is partly down to the historic terroir at Pian di Stio, one of the winery's classic vineyards, which produces a subtle but structured and iodized Fiano. The Trentenare is a more floral and seductive Fianos wine. Their two spectacular Greco wines are also worth taking note of: Calpazio, exotic and fruity lushness, and Elea, a wood-aged wine from a splendid vineyard which could be considered a grand cru.
Many of their reds are single-variety Aglianico wines. Among them, Jungano stands out, a pleasantly fruity wine vinified in both wood and stainless steel, and the wonderful Omaggio a Gillo Dorfles, a powerful and expressive wine, truly faithful to its terroir. They also produce a rosé Aglianico, called Vetere, with delightful strength, vitality, and minerality. It is undoubtedly one of the most popular Italian rosés at present in questions of class and elegance.
Year founded

2004

Own vineyards:

21

Enologist

Alessandro Leoni, Riccardo Cotarella, Nicola Gregorio

Bottles produced per year

350000