Summer Wine Fair. Up to 20% off!
Wines from Albet i Noya
Since 1979, Albet i Noya has been a pioneer of organic farming in the vineyards of Spain. There is currently a major renovation of their facilities taking place, with the construction of the new Xapallà winery in Can Vendrell. They are also carrying out a recovery programme for the restoration of pre-phylloxera varieties. The winery has won the following awards.
They manage 101 hectares of land, with 76 of them designated exclusively for the cultivation of vines. The estate's vineyards cover the lower reaches of the western edge of the Sierra del Ordal mountain range, following the undulating ground and set out on terraces and slopes facing the midday sun. Just like all vine-growing soils, those found at Can Vendrell are poor in organic material with a variable composition that includes clay and sand on a bed of limestone; the ground is porous, but with good moisture retention. When deciding upon the ideal location for each of the 15 types of vines grown, there has been due consideration for the orientation of the specific sites, for the hours of sun exposure they receive, their humidity level and height above sea level.
The white varieties are Chardonnay (2.4 ha), Macabeo (6.3 ha), Xarel.lo (15.3 ha), Parellada (9.4 ha), Muscat de Alejandría (0.5 ha), Viognier (1.9 ha) and Sauvignon Blanco (1.7 ha).
The reds are Cabernet Sauvignon (10.2 ha), Tempranillo (8.5 ha), Merlot (3.4 ha), Syrah (7 ha), Garnacha Tinta (2.5 ha), Petit Syrah (2 ha), Caladoc (1 ha), Arinarnoa (1.8 ha), and experimental for R&D (1.2 ha).
While Xarel.lo, Macabeo and Parellada are varieties which have been traditionally planted in the Penedès region with no interruptions, the others had been completely pulled up at the end of the 19th Century, due to the phylloxera crisis and the growing demand for Cava, but were reintroduced in Can Vendrell by the Albet family in the early 1980s.
Year founded

1979

Own vineyards:

46

Enologist

Josep Maria Albet i Noya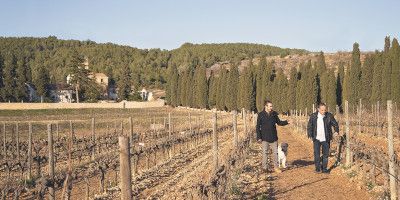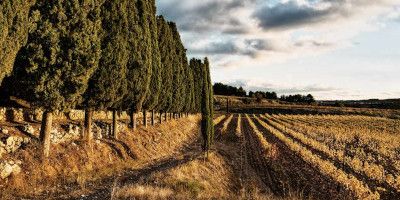 Can Vendrell de la Codina, 08739