Free delivery over £200
The wine
Pérez Barquero asserts, convincingly and with all good reason, that Pedro Ximénez wines are the pride of Andalusia's tradition in dessert wines, and a universal wine-making heritage. Their Oloroso is a dessert on its own, and dry, while their Pedro Ximénez is a sweet par excellence, pure nectar proving the best accompaniment to ice cream, fruit and chocolate. A dessert to enjoy in little sips.
What does this wine taste like?
The Gran Barquero Pedro Ximénez is amazingly viscous in the glass; it is a pleasure just to see how slowly the tears flow down on swirling and how they stain the glass. Their aromas are typical of Pedro Ximénez grapes turned to raisins: elegant aromas of figs and prunes in the foreground, followed by much more subtle notes resulting from the slow ageing: honey, coffee, exotic wood and a saline touch. Its heightened aromatic intensity leads us to expect a powerful wine on the palate but the gentleness of its entry comes as a surprise; it is a very sweet wine, with great structure, but not in the least cloying, and on the contrary it is fresh with the alcohol very well integrated.
| | |
| --- | --- |
| View | Mahogany / Dark / Bright |
| Bouquet | Primary aromas / Complex / Raisined fruits / Dried figs / Plums |
| Mouth | Dense / Full / Dried fruits and nuts / Coffee / Cocoa / Fresh |
Drinking and storing
You can open a bottle of Gran Barquero Pedro Ximénez and keep it in the fridge for a long time with no problem, and therefore drink it gradually; not only does oxidation have no effect but it also improves in bottle.
Serve between 10ºC and 12ºC
Food pairing
It is fascinating to discover this wine's versatility: it is wonderful to have with ice or sparkling water as a refreshing drink and thus tone down its sweetness, or else to accompany blue cheeses (Cabrales, Roquefort, Gorgonzola...), foie gras, stuffed aubergines, orange fruit salad, various wild mushrooms, and especially with desserts, made from puff pastry, crema Catalana, dark chocolate and cheesecakes made with chocolate, or to bring out the flavour of acidic fruits such as pineapple, strawberries and melon; although it is undoubtedly best when poured over vanilla ice cream. It is also a suitable condiment for certain sauces, to add that contrasting touch of sweetness and fragrance to vinaigrettes and pickled foods.




With ice / With soda water or tonic / Blue cheeses / Foie gras / Stuffed aubergines / Orange fruit salad / Milk cap mushrooms / Puff pastry desserts / Crema Catalana / Dark chocolate / Chocolate cheesecake / Vanilla ice cream / Pineapple / Melon / Strawberries
Winemaking
Cordoba and the Montilla region boast two highly-esteemed golden gems: olive oil, their liquid gold, and the naturally sweet wine, Pedro Ximénez, their black gold. A mahogany colour that is almost black and with an astonishing density, the PX sweet wines from Pérez Barquero are made in accordance with the dictates of tradition, using white grapes very rich in sugars and harvested late to achieve greater concentration, and put in the sun to dry on straw matting laid out in areas known as paseras (pasas are raisins). Exposed like this to the sun, the grapes dry out and lose two thirds of their mass on becoming totally concentrated. After careful pressing, the ageing begins, which will be the distinguishing feature of the bodega's four PX wines, with five years spent in the solera system of criaderas (sets of barrels) for the Gran Barquero.
| | |
| --- | --- |
| Barrel age | Used |
| Type of wood | Criaderas y soleras |
The winery
Pérez Barquero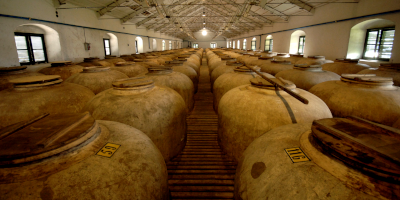 Pérez Barquero is one of Andalusia's best wineries. A family that has always shown a firm commitment to their region's traditional wines and has championed them with passion, conviction and great dedication. Their Finos, Amontillados, Olorosos, Palo Cortados and Pedro Ximénez sweet wines have always been highly regarded by consumers, appreciating all their ranges, but in recent years their fame has increased thanks to the excellent ratings received from the wine press worldwide;...
>>
Other products from this winery
This month's Best Sellers