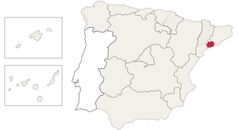 The Penedès is one of the large, historic DOs in Spain that has been establishing itself over time as an area capable of producing quality white, red and rosé wines, apart from Cava. The wineries have been pioneers both in the field of production by applying new technology to wine-making processes, but also in the introduction of foreign varieties hitherto unknown in the country.
One could say that the Penedès is itself like a small country where a large selection of both native and world-wide grapes has become firmly rooted - thereby presenting an extremely interesting vine-growing perspective as regards innovation and differentiation. This means that both long-established varieties like Parellada, Sumoll and Malvasía de Sitges are well represented, and in complete contrast foreign strains like Incroccio Manzoni, Riesling and Cabernet Franc are in evidence too. It is worth noting the whole-hearted effort that wine producers have put into Xarel·lo, the native white grape variety that plays a big role in Cava, but when used on its own to produce wine, the result is a quality product, with great varietal expression, and very well suited to barrel fermentation.
Situated to the south of Barcelona, in a geographical sense we can distinguish three separate zones according to altitude, distance from the sea and soil type. The area known as Penedès Superior is the furthest from the sea, the highest above sea level, having cooler temperatures, and with basically clay soils. The most extensive and main production area is Penedès Medio, boasting a flat relief and mild temperatures. The coastal part encompasses the Macizo del Garraf, characterized by its chalky soils and markedly Mediterranean climate.