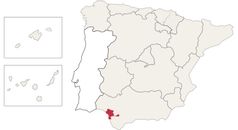 The Jerez-Manzanilla denomination is in fact two denominations of origin: the Jerez-Xérès-Sherry DO and the Manzanilla-Sanlúcar de Barrameda DO, both located in the province of Cádiz. They are two distinct denominations which, however, share the same vineyards, the same Regulatory Council, and a very similar style of production with a long history: the solera-criadera system
.
Jerez's history is as old as its wines and vineyards, introduced by the Phoenicians around 1000 BC. They founded Cádiz, believed to be the oldest city in Europe, and to its north lies the area of wine production known as the Marco de Jerez region, which is a triangle formed by the cities of Jerez de la Frontera, Puerto de Santa María and Sanlúcar de Barrameda, among others.
The wines are fortified and sweet, which means that in production they undergo special processes to help their preservation and stability. The system of winemaking in American oak barrels used by the bodegas is known as criaderas and soleras (fractional blending of vintages using tiers of oak butts): an exceptional system of aging that allows young wines to take on the characteristics of older wines. Always starting proceedings with the only three grape varieties authorised by the DO (Palomino, Pedro Ximénez and Moscatel), it is through this elaborate process that the various styles are produced which can be categorised as follows: Fino, Amontillado, Manzanilla, dry and sweet Olorosos, Palo Cortado, Pedro Ximénez, Moscatel.
The natural characteristics of the terroir are clearly defined by the location and soils, lying in the far south of the country, right at the mouth of the Guadalquivir estuary, but prone to Atlantic ocean influences and damp winds. In addition, the special traits of the region's soil called Albariza, due to being very spongy and deep, is excellent for retaining moisture which is stored for the drier months.