Umbria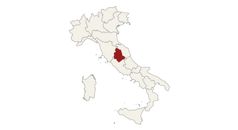 A region with a very high and millenary wine vocation, Umbria, for years now, is certainly no longer the handmaiden of Tuscany, but has acquired its own, disruptive oenological personality, both in terms of quality and market. The great Umbrian reds, like the Tuscan ones, come from the wonderful vineyards that dot the wonderful Umbrian landscapes. Vineyards that grow on clayey and sedimentary soils, rich in structure and minerality, and on gentle hills with excellent exposure, which boast temperature ranges capable of giving wines an exceptional elegance but also an extraordinary concentration.
From these magical territories come the two pearls of regional oenology: the Torgiano, an immense Sangiovese that is in no way inferior to the great Tuscans, usually presented in a Chianti style blend, and the Sagrantino di Montefalco, an extraordinary wine for its breadth and intensity, with imposing tannins and great longevity. Umbria is also a region of great experimentation: and in fact, as in Tuscany, native grape varieties are often combined with international ones, creating prestigious and exclusive wines. No less important are the pure international grape varieties, among which Pinot Noir certainly stands out, which has found a terroir of choice among the typical tufaceous "calanchi" of Umbria, and Gamay, in an unusual version that can be traced back to the Grenache group.
Among the whites, Orvieto is one of the greatest Italian wines. Obtained from the tufaceous and mineral soils of the beautiful Umbrian town, it derives from the native Grechetto grape, with additions of others among which the Procanico stands out, able to sustain for many years an incredible freshness and minerality, so much so as to withstand surprising refinements, over 15 years. In the Orvieto area, the production of white wines from international grapes is also excellent, such as Chardonnay (the legendary Cervaro della Sala is from these parts), while in the Montefalco area the Trebbiano Spoletino stands out, a white wine to be discovered with its intense spicy sensations. And it should not be forgotten that Umbria is also a land of botrytised wines, perhaps the most suitable in this sense in all of Italy, thanks to the numerous lakes that dot it and the strong humidity that they are able to produce.