Montecucco Sangiovese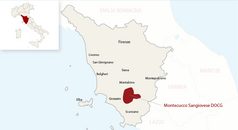 Among the different Tuscan appellations which cultivate Sangiovese as one of their main grape varieties, perhaps Montecucco is the least well-known. A landscape of vineyards spreading over high hills between Montalcino and Maremma, it has strong historical and climate links to Mount Amiata.
In fact, for geological reasons and its closeness to Mount Amiata, Montecucco enjoys a uniquely characteristic climate. The area is predominately hilly and vines are generally planted in locations ideal for Sangiovese.
The day-night temperature differences during ripening ensure the Sangiovese offers an extraordinarily rich aromatic profile, which combines with a strong, elegant and aristocratic structure, to create wines more accessible than those from higher altitudes, such as the Montalcino wines, and also more subtle and smoother than coastal wines.
Despite the altitudes, carefully-chosen locations on the hillsides to guarantee plentiful sunlight help the grapes to ripen very well, producing a good amount of sugar, alcohol and phenolic content. All of this means the wines are ideal for ageing, especially with long maceration processes.