Faro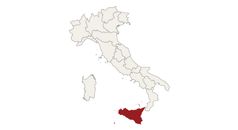 Among the Messina hills closest to the city, where, between Scylla and Cariddi, iconic wines such as the Mamertino prospered in antiquity, today the most significant denomination is definitely the Faro. Here, where viticulture has Phoenician and Mycenaean origins, in the last twenty years of the twentieth century the vineyard needed a real structural and qualitative reconstruction, which in the following years led the realisation of some of the most appreciated oenological pearls of the region.
The vines are those of Etna, which here take on a more opulent and maritime character: Nerello Mascalese and Nerello Cappuccio dominate the Strait scene. Only reds, therefore, in Faro DOC, with a prescribed minimum aging of one year, during which the oak assumes an ever increasing importance.
Of a concentrated ruby colour with frequent garnet shades, the Faro is a red of pure-breed and character, Mediterranean but subtle and elegant, of a broad bouquet, with aromas of red and dark ripe fruit, undergrowth, jam, spices. On the palate it is structured, rich, generous, warm, enveloping, with a silky, soft and velvety tannin.