Reduced delivery charges over £200
Club Vinissimus Selection October 2021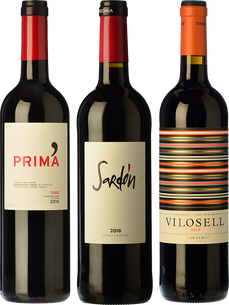 Great small wines
Every large winery offers a wide selection of wines ranging from their most sought-after and prestigious bottles to simpler introductory wines which are usually the ones the firm relies most on for its business. These starter or middle-range wines are often the ones which inspire wine-lovers to discover bigger names and dig deeper into the style of winemaking of a specific winery. Some may ignore these small wines, placing them in a lower category, but, in fact, there is often less intervention carried out in their ageing process which makes them an excellent option to enjoy the skills and know-how winemakers have used with the vines. There will always be time to explore more concentrated and complex, and probably more expensive, wines but to fully understand and appreciate them, it is definitely a good idea to start out with the great small wines of each winery.
Year after year, regions such as Castile and León or Catalonia have demonstrated that they are capable of producing excellent quality wines for very affordable prices. Close to the River Duero, grapes ripen perfectly and wineries make excellent use of wood for ageing to create successful wines the envy of many a winemaker. Wines from Castile and León bring together strength and balance, and fruit and wood, like few others and this is especially seen in red wines with short or medium-term ageing processes such as Prima and Sardón.
Winemaking in Catalonia is a synonym of innovation and working with specific varieties, but it is also home to tradition, experience and knowledge. In areas such as Costers del Segre (Lleida), grapes are blended to create wines with an unexpected complexity for this price. Vilosell from the Bodegas Tomás Cusiné winery is a perfect example — a seductive and personal wine delighting the drinker from the very first sip.
Other customers also bought
This month's Best Sellers