Up to 25% off sparkling wines!
Club Vinissimus Selection November 2021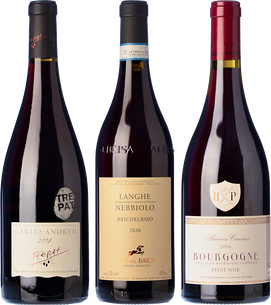 Subtily Transparent
Just like in almost every field, tastes are always changing in the world of wine too. What seems unquestionable today, may well be dispensable tomorrow. A clear example of such changes in trends can be seen if we look back to what happened with wine in the 1980s and 90s. A certain American wine critic swiftly gained many followers and became hugely popular thanks to his wine reviews. His favourite style of wines were intense, deeply coloured ones with a very noticeably aged character and many such wines received good ratings. This style became so closely linked to his name that nowadays wines like these are often colloquially called 'Parker wines'. The influence of Robert Parker's wine reviews was such that many wineries actually started working to create wines with these characteristics in order to achieve top ratings and reach a wider public. Wine fans loved Parker's favourites and slowly but surely this tendency almost became the norm for red wines. Less intensely-coloured and less concentrated wines were left aside and undeservedly neglected by many wine enthusiasts. But, as we said above, time changes everything.
Nowadays many wine-lovers have moved away from the styles favoured by Parker. Without questioning his outstanding work and reviews and his crucial contributions to the modern world of winemaking, these consumers prefer suggestive wines that whisper rather than shout - less direct wines. Many winemakers and consumers want gastronomic and fresh wines, versatile at the dining table and also ideal for simply enjoying a couple of glasses without feeling overwhelmed. Burgundy is the latest stronghold of this style of wines and an inspiration for many wineries who find that subtlety in wines expresses better the elegance of the grapes used. Aromas of flowers and spices are once more coming to the front in wines, whereas the stamp left by wood on aged wines is becoming fainter. A more reserved extraction gives the wine a clearer colour in the glass. It is time for subtly transparent wines.
This month's Best Sellers