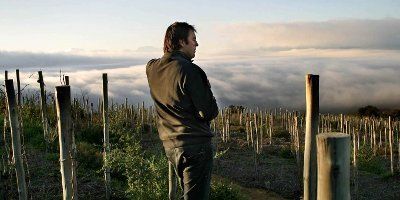 In the capable hands of oenologist Eben Sadie, the South African winery called 'The Sadie Family' is situated in the wine-producing region of Swartland, where it produces two wines: Columella (red) and Palladius (white), whose names allude to the authors of De Re Rustica, a treatise on farming that provides a good account of viticulture in Roman times.
Over 2,000 years ago, Lucius Junius Moderatus Columella and his sucesor, Palladius, were already claiming that "the most excellent wine gives pleasure due to its own natural qualities", a statement supported by Eben Sadie, who produces his wines in a natural way, without sulphites, and believes that the most important component in wine production is the grape itself.
Having ventured over to Europe and the USA and gaining a valuable insight, he then spent a few years from 1998 acquiring experience with famed Charles Back at his newly-founded Spice Route winery in Swartland. Starting up on his own, he came up with two flagship wines: Columella was first released in 2000, with around 5,000 bottles, and Palladius followed in 2002, with the vintage numbering a scant 2,000. He has become recognized world-wide as a highly skilled winemaker, but his over-riding concern has always been for his vineyards and their various terroirs, as they provide the magic and the vital ingredients. A firm believer in blending varieties, he has championed a selection of mainly French grape varietals, such as Syrah, Mourvèdre, Chenin Blanc, Grenache Blanc and Viognier. Innovative and at times unconventional, he pursues what is best for the grape, with a hand-crafted approach starting in the vineyard and continuing inside the cellar.
Eben Sadie, the so-called enfant terrible of South African wine-growing, is also involved over there in the Sequillo Cellars, while he is famous too in Spain, as the oenologist and co-owner of the winery Terroir al Límit in the Priorat.
P.O. Box 1019 Aprilskloof Road, 7299