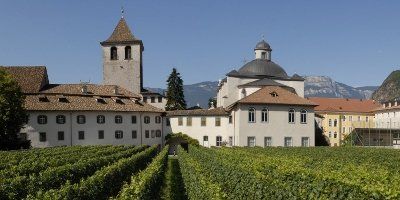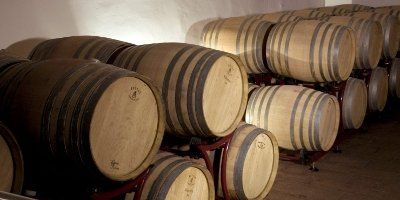 The role of convents and abbeys was crucial in fomenting the production of European wine during the darkest years of the Middle Ages. The holding of mass and religious services saved thousands of hectares of vineyards and perpetuated centuries of tradition which otherwise would have been lost. Some of these monasteries have survived to the present day and safeguard the history of wine in relation to its holy and ceremonial side, yet in a sincere and beneficial way too. The South Tyrol or Alto Adige is the Italian region which has been at the forefront of preserving this tradition: nowadays ancient monasteries have become veritable avant-garde centres of research and development, especially with regard to indigenous varieties used as raw material, maintaining a strong link with the history at the heart of their origins.
Belonging to the Benedictine order for centuries and a firm follower of its dictum "Ora et labora", Muri-Gries is one of the most renowned of these wineries boasting a religious past. The house's modern approach to the management of winemaking has given to great wine lovers the Lagrein de Alto Adige, this region's native variety par excellence. Exhibiting a lively and seductive freshness, the Lagrein of Muri-Gries is supported too by the winery's tradition-based expertise so as to offer a matchless elegance, an incredible body, and an array of balsamic and toasty notes which reveal a wine of great character.
With its Lagrein Riserva Abtei Muri, the winery has succeeded in becoming the emblem of monastic winemaking in the South Tyrol: a warm, compact, juicy and long-living wine favoured by the alluvial soils from which it proceeds and by a judicious ageing of 14 months in barrel. With its Lagrein Clásico, the vines aged almost eighty years old give us a wine which is excellent value for money, fresh and with an enchanting smoothness, as occurs too with its Lagrein Kretzer, a smooth and fruity rosé. There's an infinite elegance to its Pinot Nero, a paradigm of the highest quality that this variety can offer in the Alto Adige, delivering crisp, spicy and fruity wines. The winery's whites don't fall behind, with an impressive Gewürztraminer and a Sylvaner with a distinct personality, powerful and easily drinkable at the same time.
Year founded

1845

Own vineyards:

50

Enologist

Christian Werth

Bottles produced per year

650000