Free delivery over £50
Wine from Celler La Bollidora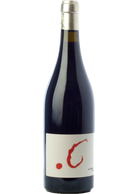 Celler La Bollidora
Celler la Bollidora got under way with the 2005 vintage, with owner Joan Carles Sánchez directing proceedings.
The winery is located on the outskirts of a town called Vilalba dels Arcs, in the renovated buildings of the old "town distillery", from which it gets its name La Bollidora (The Boiler).
The winery's philosophy and objective is to carry out their vine management work in an environmentally friendly way, and most especially, to make exclusive wines of the highest quality. This has entailed discovering abandoned old vines and giving prominence to indigenous varieties such as the "Morenillo", as well as the Garnacha Negra, Samsó (Cariñena), and making good use of the foreign ones, Syrah and Cabernet Sauvignon.
All the wines they produce come from their 5 estates located within the municipal area. The soils are calcareous and clay in composition, and very poor in organic matter, lying at altitudes that range between 460 and 550 metres, which makes these vineyards the highest in the Terra Alta DO.
Location and contact
Carrer Tacons 8, 43782 Vilalba dels Arcs