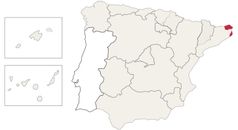 When mention is made of Empordà and the Costa Brava, a picture comes to mind of a landscape shaped by the wind, the sea and the Pyrenees, providing the vines with a wonderfully picturesque setting in which to flourish. Located in the far north-east of Catalonia and bordering France, first the Phoenicians and then later the Greeks, with settlements in Empúries and Roses, were responsible for introducing vine cultivation to the area.
The region has traditionally found fame for producing sweet Garnacha wines. However, in the 1990s young oenologists came to realize the enormous possibilities presented by the region's terroir and opted for making good quality still wines using the region's customary grape varieties blended with foreign ones. Therefore, the locally-grown Garnacha, Cariñena and Garnacha Blanca were joined by Cabernet Sauvignon, Merlot and Chardonnay, which imbue the wine with a very distinctive mineral character due to the granite and slate soil.
If there is a climatic feature that typifies the Empordà apart from the obvious Mediterranean influence, it has to be the strong north wind that frequently blows in this area: the Tramontana, which cools down the summer heat and helps to ripen off the grapes. As regards the soil type, it is poor and sandy on the plains, while on the Pyrenean slopes and the Cap de Creus, the vines are planted on terraces with granite and slate soil. This results in wines with more personality.