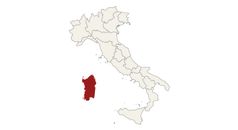 The Sardinian winery scene is one of the most fascinating in Italy. The variety of crops and soils, as well as climates and wonderful landscapes, makes this island an extraordinary heritage also from an oenological point of view. In recent years, the production of quality Sardinian wines has increased considerably, diversifying in an exceptional way and offering, between tradition and innovation, highly-sought-after oenological pearls.
The northern area of the island, with Sassarese and Gallura, is a land of calcareous and ferrous soils: land, therefore, of great mineral wines, such as Vermentino, which here takes on a unique depth and sapidity, and Torbato, typical of the beautiful Alghero and now recognised as one of the most promising Italian white wines, which is also great value for money.
Central Sardinia is the Sardinia of Cannonau, the great island red. A wine of magical character and territoriality, a Grenache that has conquered people like Gabriele d'Annunzio, and which benefits from the marvellous calcareous-clayey soils of Ogliastra from Jerzu to Oliena, the classic area of the vine, typically planted with sapling. A wine that is full-blooded, strong but caressing, all the more so today often aged in wood, and therefore incredibly long-lived.
Beyond the Oristano area, a land of great vernaccia with liqueur-like hints traditionally refined with velo de flor, lies the Cagliaritano, with simpler and less fertile soils, which stands out for the production of ready-to-drink wines, great as an aperitif, with extraordinary cleanliness and great charm, such as the white Nasco, very interesting also in the sweet version, and Nuragus and, but further north, the red Cagnulari.
But there is no lack of other highly-satisfying great reds in the region: the Monica, which is still however fruity and graceful, and above all the refined Carignano, which is thinner and more elegant than the Cannonau, which in terms of regional excellence is at the same level, and has also received international recognition. It is known in Spain as Cariñena, as proof of the strong wine-growing harmony between Sardinia and the Iberian peninsula, which is produced also with other grapes, from Bovale to Cannonau itself, tracing, thanks to the diffusion of Vermentino in Liguria and Tuscany, a splendid arc of the whole Mediterranean viticulture, of which the island of the four Moors represents the ideal centre.