Carema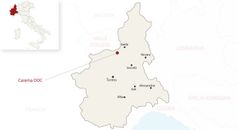 Already well known to sixteenth-century treatise writers, Carema has always constituted one of the greatest Piedmontese red wines, and at the same time an important border product with Valle d'Aosta. Carema is, among the Nebbiolo wines of northern Piedmont, one of the richest in value and history, having usually enlivened the tables of the Savoy court: today it has attained the title of Slow Food Presidia.
The Carema landscape is complex but intriguing, between 350 and 700 metres above sea level, and is dotted with terraces supported by walls and white lime pillars, also typical of the Valle D'Aosta area: they are called "tupiun", which support these heroic vines and at the same time store heat and distribute it even on cold alpine nights.
What is produced is a noble and austere wine, which requires minimum ageing of two years for the vintage products and three years for the reserves, most of which is conducted in large oak barrels.
Garnet-red in colour when not already orange, Carema is a great wine with wide and elegant hints of rose, violet, red jam, spices, tobacco, leather. On the palate it is structured, but of fantastic elegance and subtlety, of live tannin and lively, yet perfectly balanced. A wine with a very long finish, destined for extremely long ageing.