Rosso Conero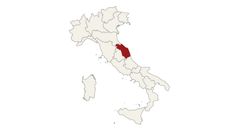 On the slopes of the Conero, the big Adriatic mountain rising majestically over Ancona, the best red of the Marche is made. The vines, which are often bred in promiscuous cultivation together with the Mediterranean scrub, pines, holm oaks, gorse and strawberry trees, lay on variegated soils and diversified microclimates, in which the influence of the sea and good ventilation dominates.
The main grape variety here is Montepulciano, which, before being consecrated in Abruzzo, takes on a particularly subtle and Mediterranean guise in the Marche region, suited to aging and blending with variable percentages of Sangiovese, to which it gives aromas and envelopment. The wines from Conero, moreover, are steadily growing, and still boast an extraordinary success among wine-lovers.
Rosso Conero, of a beautiful intense ruby colour ​​with the characteristic violet reflections of a young Montepulciano, is a wine rich in varietal hints, with the fruity essence coming from morello cherry and plum. On the palate it is rather tannic and of good sapidity, of appreciable body and endowed with a harmonious softness.
The Riserva, after aging in wooden containers for at least a couple of years, takes on a more decidedly garnet colour, with darker olfactory scents of black currant, black pepper, undergrowth , cinnamon, tobacco, cocoa. On the palate, the structure becomes imposing without skimping on elegance, with a firm but smooth tannin.