Free delivery over £200
All you need to know about Sherry wines
One of the great treasures of the world of Spanish wines, sherry wines are the classic heirs of winemaking traditions in Andalusia. Finos, Manzanillas, Amontillados, Olorosos, Palo Cortados, Pedro Ximénez... and more. Unique wines born from centuries of experience and tradition, with a long history linked to trade with the United Kingdom, a present immersed in culture and rich gastronomy, and a promising future.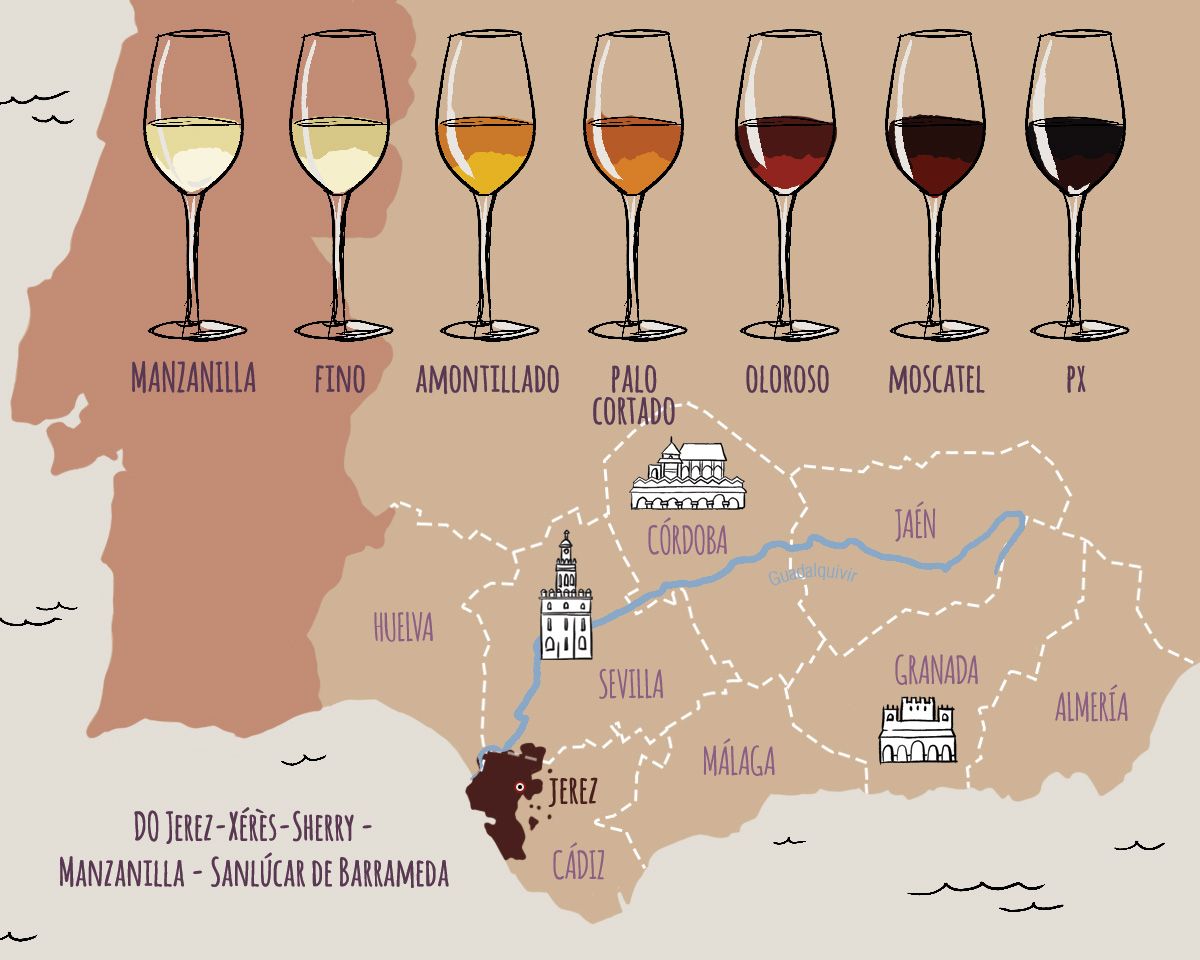 An appellation and a style of wine
The city of Jerez gives its name to both the appellation and the type and style of wines produced there - Jerez wines or, as they are known in English, sherry wines. This kind of direct and unique connection between a wine and its region is a privilege reserved only for the great wines such as Champagne or Port. Sherries do share some characteristics with similar wines produced in other areas, like the traditional Andalusian wines from Montilla-Moriles, or wines from Marsala en Sicily, Madeira in Portugal, and even the vins jaunes from Jura in France, but they are not exactly the same. Sherries from Jerez are unique, wonderfully complex and diverse wines. Their history is replete with a rich vocabulary and glossary of expressions and symbology which may surprise and even confuse newcomers: fino, oloroso, palo cortado, soleras, criaderas, sobretablas, venenciador, capataz, catavinos, palmas, sacas, sacristías... all terms you will gradually come to know as you explore the world of sherry. A world waiting to be enjoyed unhurriedly, step by step, one sip at a time… a fascinating world of wine which will eventually charm you for life.
Kinds of sherry
The main kinds of sherry are Fino, Amontillado and Oloroso all made from Palomino Fino, the star grape variety in the region. Manzanilla, made in a similar way and with the same variety as Fino, is only produced in Sanlúcar de Barrameda, at the mouth of the river Guadalquivir, where it boasts its own appellation. Another well-known style is Palo Cortado, which brings together the best qualities of Amontillado and Oloroso to offer a splendidly intriguing sherry. All five are dry wines, well-known and loved as aperitifs but also well-worth keeping near the dining table. A powerful acidity, an ability to refresh, and their excellent complexity make them very versatile wines, ideal to pair will all kinds of food, especially traditional Andalusian dishes.
Whether a wine is destined to be a Fino, Amontillado or Oloroso is not decided by the capataz, or cellar-master, but by the wine's nature. The most delicate musts are used to produce Fino whereas stronger bodied must is kept for Oloroso. If a must offers a more ambiguous sensation at the start with a nose reminiscent of an Amontillado but a palate leaning towards an Oloroso, they will be marked with one of the most characteristic symbols of sherry-making: a palo cortado, or crossed (cut) stick or slash. These complex decisions of just what kind of sherry they are working with are one of the key roles of the capataz or cellar-master; much more than a simple head of the winery, they are heirs to the wise and traditional profession of sherry-making, and must be able to interpret the nature of the wine throughout the whole process from start to finish.
Among the sweet sherries, PX and Moscatels are made from Pedro Ximénez and Moscatel grapes respectively. There are also fortified liqueur wines which blend dry sherries and concentrated must to create pale cream (with Finos or Manzanillas as their base wine), medium, and cream sherries (Amontillados or Olorosos, with a medium or high level of sweetness).
Finos and Manzanillas, biologically aged wines
Finos and Manzanillas from Jerez are pale dry white and biologically aged wines. Biological ageing, as opposed to oxidative ageing, means that the wine ages free of oxygen, protected under a layer of yeast cells known as the yeast flor (flower) which appears if a series of conditions are fulfilled: barrels must not be completely filled so as to leave space for a layer of air; the alcohol content must be around 15% ABV; and the specific humidity and temperature conditions, provided by the exceptionally unique climate of Jerez.
As it is not possible to achieve this alcohol content naturally with Palomino grapes, wine alcohol is added to the wine until it reaches the required level. This strengthening explains why they are called fortified wines. The biological ageing process goes on for at least two years using the traditional method of soleras and criaderas in pre-used American oak barrels to obtain the Fino or Manzanilla the winery is for.
Finos and Manzanillas are cheerful wines with a straw-like or pale golden yellow colour, and sharp aromas of bread dough and fresh herbs. They have a light body and an almond-like flavour. Manzanillas are usually more floral with notes reminiscent of chamomile, and a more delicate and saline character than Finos. Some are bottled unfiltered or en rama, producing Finos and Manzanillas in their pure basic state, long-lasting and brimming with nuances. A system of different categories or palmas is used to indicate the concentration and fineness of each wine.
Amontillados and Olorosos, wines made with oxidative ageing
Amontillados are also moderately dry white sherries but somewhat more complex than Finos thanks to their production process which combines a period of biological ageing under flor and a period of oxidation. Starting out life as Finos, their biological ageing is brought to a halt by adding alcohol to bring their strength up to 17-18%. The barrels are then completely filled up and the oxidative ageing process begins. As the flor disappears, the wine begins to darken, acquiring a particular amber colour and hazelnut flavour, with notes of aromatic plants, dark tobacco, fine wood and its characteristic caramel nuances. The result is a dry wine, with a great acidity and concentrated aromas, rich in flavours but with a relatively light body, Amontillados sometimes even maintain saline touches from their time when they started as a Fino. An equivalent wine from the Sanlúcar region is the manzanilla pasada. These wines would make a fine second step on your learning path into the passionate world of sherry.
Olorosos are rounded wines with a splendid structure and complexity, aged only using an oxidative process without flor. The name translates into English as fragrant and that is just what these sherries are. They have a good body and display a colour ranging from dark amber to mahogany depending on their age. Unctuous, extremely generous and rich, but smooth on the palate, they have delightful toasted and vegetal notes, alongside fine woods, pale tobacco, fallen leaves and walnuts or even hints of truffles and leather. Olorosos and Palos Cortados are ideal wines for relaxing and meditating a while.
PX and Moscatels, sweet sherries
The sweet Pedro Ximénez sherries, PX, are made using Pedro Ximénez grapes dried raisin-like in the sun. They are sweet liquor wines, with wine alcohol added to achieve an alcohol content of 15-18% and aged in barrels which are not completely full, meaning they develop an oxidative character similar to the other wines from the area. Moscatel sherries display the typical exuberant aromas of the Moscatel grape variety, whereas aromas reminiscent of raisins dominate the dark mahogany-coloured PX sherry.
VOS and VORS categories
The VOS and VORS categories are used to identify the longest aged sherries from Jerez. In English, VOS is taken to stand for Very Old Sherry whereas VORS represents Very Old Rare Sherry. The first have been aged for at least 20 years whereas the second label indicates they age for at least 30 years. As much as almost half of the wine may be lost to evaporation over these lengthy periods, leading to extraordinary concentrations of sugar, acidity, and other characteristics. Some of these old sherries are kept in special rooms in the winery, called sacristías, a treasure trove of wine only accessible to family members or the chosen few.
The soleras and criaderas system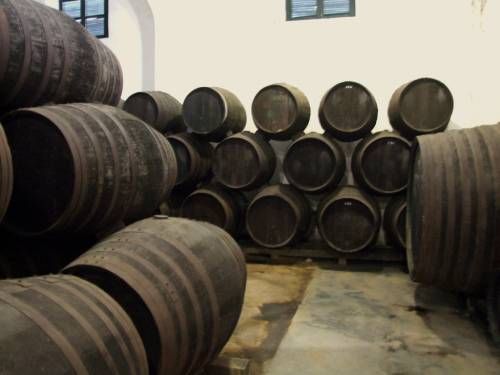 Most sherries do not have a vintage as they are a combination of aged and young wines blended using the traditional system of soleras and criaderas. The aim behind the process is to obtain a clearly-defined and homogeneous style of wine, characteristic of each winery. Some vintage sherries are produced, though, following strict requirements laid down by the Sherry Regulating Body, including sealing the barrels as a guarantee that these wines express the specific personality of the harvest in question.
The traditional and widely used method of ageing and blending wines in Jerez is an age-old Andalusian tradition and one of the most typical images of Jerez. It consists of a dynamic system based on rows of barrels arranged in a specific order (traditionally they would be in layers like a pyramid). When the sherry is ready, up to, and no more than, a third of the wine from the bottom row is bottled – the name solera coming from here, describing the floor-level barrels. This layer of barrels are then filled up using wine from the next row up – called the primera criadera (first nursery). These are filled up, in turn, using wine from the next row, the segunda criadera, and so on. The top row of barrels, containing the youngest wine, is known as sobretablas (these barrels have previously been used for fermenting the wine when they were laid out on wooden boards – tablas – on the ground). The final result is a blend of differently aged wines which becomes homogenic over the years.
The process always uses large 500 or 600-litre American oak barrels but each winery decides how many layers (or ages) of wines to blend, and how much to bottle each time, meaning the average age of each sherry can vary widely from one brand to another. Depending on the total number of barrels used and how many are in each row, they are not always laid out in the traditional method on top of each other in the same room. They can be kept in different rooms or even buildings as long as the order of ageing is maintained and the sherry is blended following the well-known method explained above.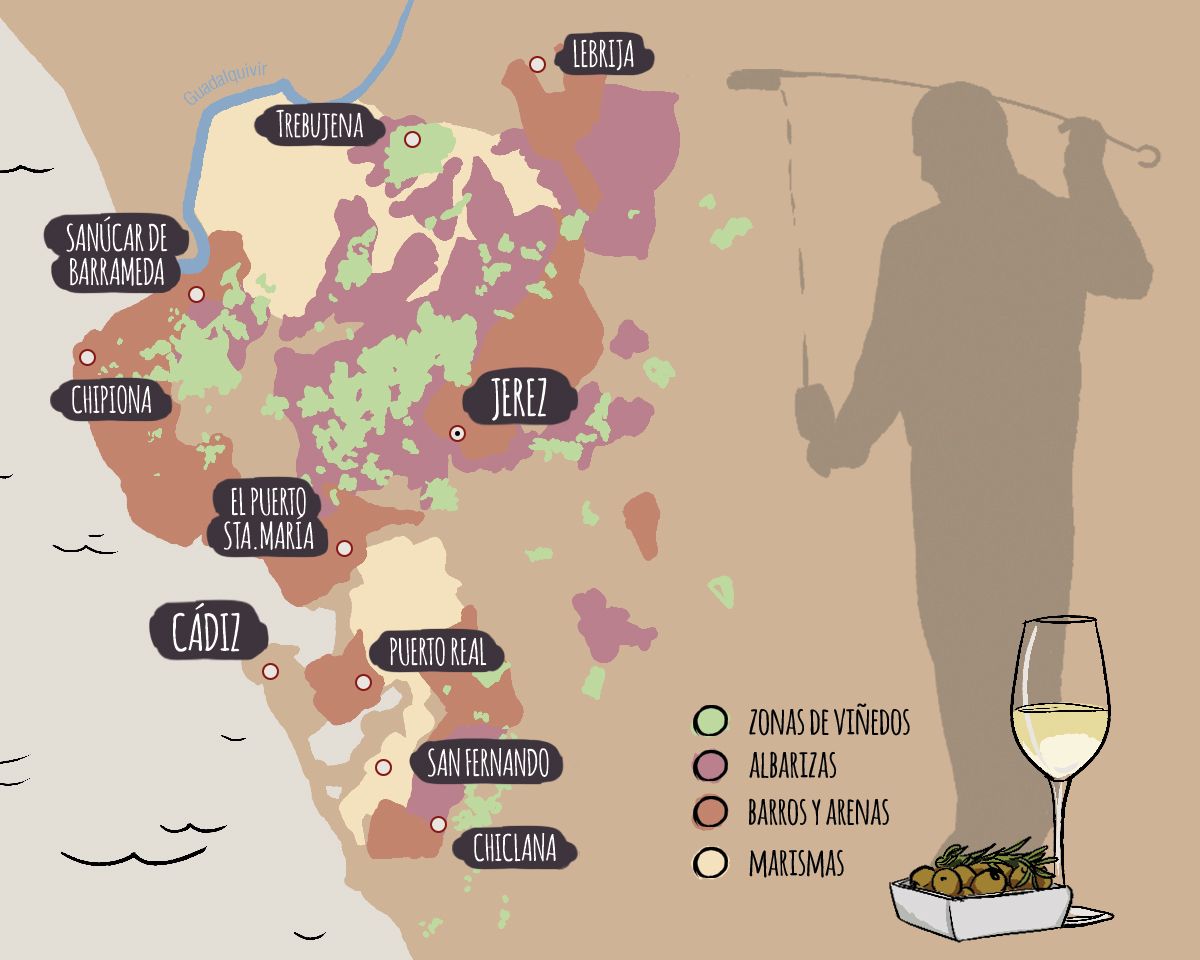 The Marco de Jerez or Golden Triangle
The Marco de Jerez is the triangular region formed by the towns of Jerez de la Frontera, El Puerto de Santa María and Sanlúcar de Barrameda, and other small towns and villages. This area in the Cádizprovince in the south of Spain is home to the famous and reputed sherries made in the Jerez-Xérès-Sherry and Manzanilla - Sanlúcar de Barrameda appellations under the watchful eye of the Regulating Board in charge of protecting the oldest winemaking appellation in Spain, ensuring the quality of the wines, and conserving this amazing historic, agricultural and cultural heritage in Andalusia.
Soils and vineyards, climate and architecture
The Jerez soils are mainly made up of albariza, a whitish rock typical of the area composed of limestone, clay and silica, and ideal for retaining water in the subsoil. Of course, as with other wine regions, here in Jerez every plot is different too. Some wine estates have a great reputation thanks to the excellent quality wine they produce. Years ago many of the well-known names seemed to be losing importance but recently they are making a comeback. These prestigious vineyards include names such as Macharnudo and Macharnudo Alto, Miraflores, Munive, Balbaína, Añina, Carrascal, El Hornillo, Mahína, and Munive.
The generally warm climate offers dry and hot summers and gentle winters with a relatively high level of rainfall. This may surprise some but the closeness of the Atlantic Ocean means humid sea breezes are commonplace. Factors like the unique soil and ideal climate, together with the special architectural design of the wineries themselves (large ageing rooms with high ceilings in well-ventilated buildings) provide the perfect conditions to produce the wonderful Jerez sherries. The importance of these well-aired rooms means that producers have constructed huge wine cellars, often known locally as cathedrals.
Pairing with sherries
Some sherries are for drinking soon after opening whereas others can be kept in the fridge for months and months. The longer the oxidative ageing period, the longer they can stay opened. They can be served in a white wine glass or you can use the traditional copita sherry glass (also known as a catavinos) often used for sherries and wines from Montilla-Moriles – a tulip-shaped glass wide enough to aerate the wine but with a narrow mouth so as to concentrate the aromas.
Finos and Manzanillas, for example, start out as white wines and because of their youth can be kept in the fridge for only a few days after opening. They are best served chilled, between 6-8º (8-10º for more complex ones), and make an ideal aperitif to accompany an appetizer or snack such as traditional tapas or olives, a cold soup like gazpacho, vinaigrette salads, small fried fish, cured ham, prawns, anchovies or raw fish. They should be drunk within a year or eighteen months of the bottling date.
Amontillados, Palos Cortados and Olorosos continue to evolve well once they have been opened if their original cork is used. Some may even improve over time. How long will they last? It depends a lot on the wine itself and each person's palate, whether you prefer a fresher wine or a more developed character. Experience is the key. These kinds of sherry are best served quite cool, between12-15º, temperatures normally found in the cellar. They pair excellently with all kinds of food including dishes which are often difficult to find a wine for. In a nutshell, they make ideal wines for bold pairings. Amontillados go well with thick soups, purées or broths, tuna, sardines, asparagus, artichokes, and hard cheese whereas Olorosos are a splendid option for richer dishes such as red meats or game. Examples include the typical Spanish braised pork cheeks, or beef, mushrooms, and well-cured cheese.
PX and Moscatels are dessert wines. PX goes great with chocolate cake or vanilla ice cream and Moscatels make the perfect partner for cakes and fruit salads. They are best enjoyed chilled between 10-13º, although the complexity of the wine should be taken into account too. The more complex the sherry, the warmer the temperature it should be served at.
Another factor to bear in mind with sherries is the fact that they have a relatively high alcohol content. All the more reason to enjoy them at a leisurely, unhurried pace or as an alternative to after-dinner spirits.

World Sherry Day and Sherryweek
World Sherry Day is celebrated on 26 May. The idea for this special day came from a group of sherry enthusiasts in 2013 coinciding with the eightieth anniversary of the founding of the Jerez-Xérès-Sherry DO appellation, created to protect the heritage and traditions of sherry-making. It has become an important day on the calendar with many wineries holding open days. Tasting events, often with historic vintages, are organized, as well as talks, routes, and other activities related to the culture and history of sherry and Andalusia in general.
Another important celebration is Sherryweek, seven days in November full of activities related to the traditional wines of the region. A week to live and enjoy the passionate world of sherry. Talks and masterclasses are given, as well as other events like cooking lessons, sherry-tasting, and food pairing activities run by professionals from the world of food and wine, both in person and online.
For more information regarding Sherryweek, check out the website of the appellation Regulating Board - Consejo Regulador de las Denominaciones de Origen Jerez-Xérès-Sherry, Manzanilla - Sanlúcar de Barrameda y Vinagre de Jerez.