93+ Parker points for only 9.10 euros! 15% off Ultreia Saint Jacques 2018. ONLY TODAY!
3h 52m 12s
Orben, best Spanish wine / Wine Spectator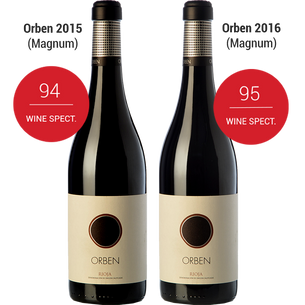 10 for immediate dispatch
€ 84.85
/ item
Description
'A splendid red wine with a muscular structure, and exquisitely delicate aromas' ... With 95 points in its annual ratings, the Orben 2016 is the best Spanish wine of the year according to Wine Spectator, and among the 15 best in the world. Enjoy it now in a Magnum bottle together with the excellent 2015 vintage (94 points Wine Spectator).
In Laguardia, in the Rioja Alavesa, where the Atlantic climate still succumbs to some far-distant Mediterranean influence, there grow vines aged more than 70 years old which produce the grapes that will give rise to Orben. At the winery they combine knowledge acquired over generations with the most modern practices in order to obtain expressive wines that appeal to everyone. The grapes from micro-parcels scattered around the area are cared for meticulously so as to achieve a refined and robust wine that's, never fear, certainly not at all rough.
Its violet tinges on the rim point to freshness whilst its central opaqueness is a very clear indication of its strong personality. From a combination of these two merits, Bodegas Orben attains a modern red, with an extensive aromatic palette which ranges from cherries and inky hints to liquorice and pencil lead. On the palate, it appears fresh right from the start, at the same time as lactic (toffee flavoured) and moderately tannic. It's juicy and rugged, and the concentrated fruit stands out on a spicy and balsamic background. It takes its leave repeating its fruit character with maximum expression accompanied by the warm touch of well-applied oak.
Contains
1 Orben 2016 Magnum + 1 Orben 2015 Magnum
This month's Best Sellers