Reduced delivery charges over € 200
Exceptional Malbecs from Catena Zapata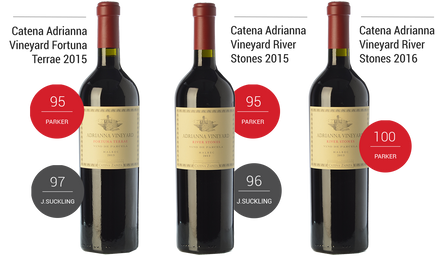 Last 6 units. Immediate dispatch
€ 317.20
/ item
Description
Antinori, Gaja, Mondavi... The Catena name is up there today with the most prestigious wine-making lineages thanks to the revolutionary change brought about by Nicolás Catena and his daughter Laura at their family-run winery.
In the Argentina of the tumultous 1980s, when technology was notable for its absence and quality wine had been sacrificed in the pursuit of large-scale production, Nicolás Catena knew how to identify and take advantage of the potential offered by the Mendoza region: he opted for Malbec primarily, putting quality before large yields, and set his sights on terroir in the Andes, where the arid climate, the meagre fertility of the soils and the purity of the water were presenting ideal conditions for producing fine wines. He also introduced the most advanced technology into the winery with stainless steel tanks that protected the fruit, and small barrels made of French oak, which he imported from the best French cooperages.
Fortuna Terrae originates from parcels with rather deeper soils, having limestone rock in the subsoil, and they possess a profile which is more feminine, more fragrant and floral, of a less intense colour and with a much more pleasant palate than wines of a similar ilk; and it has delightful acidity.
River Stones comes from the rockiest area and is the red version of White Stones; its grapes have been exposed to the north, which in the southern hemisphere means more warmth (in cool vintage, like this 2017, the results are remarkable). It's a wine which combines powerfulness and elegance in equal measures, a refined, harmonious and precise wine, like few others. Exceptional, in capital letters.
Other customers also bought
This month's Best Sellers