LAST DAY! 11+1 free Promotion on ALL wines
12h 33m 27s
Catena Adrianna: The South America's Grand Cru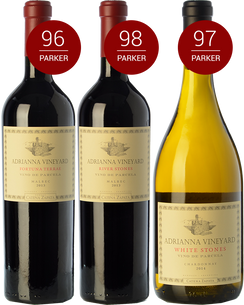 Last 8 units. Immediate dispatch
€ 265.80
/ item
Description
Adrianna Vineyard is regarded as South America's Grand Cru. Nicolás Catena Zapata began planting vines there in 1992 despite complete uncertainty and being considered quite mad, although he was convinced that the altitude (over 1,500 metres), the cool climate and the sunlight could produce wonderful fruit. The ensuing years have not only proved him right but have resulted in real gems, wines which are much more mineral and have better acidity than those from the Uco Valley areas. Besides the elevation, another of the secrets behind the success of Adrianna Vineyard is its volcanic subsoil, with excellent drainage and characteristics that give rise to wines of great personality. Today, there are five: three reds and two whites.
Fortuna Terrae originates from parcels with rather deeper soils, having limestone rock in the subsoil, and they possess a profile which is more feminine, more fragrant and floral, of a less intense colour and with a much more pleasant palate than wines of a similar ilk; and it has delightful acidity.
River Stones comes from the rockiest area and is the red version of White Stones; its grapes have been exposed to the north, which in the southern hemisphere means more warmth (in cool vintage years the results are remarkable). It's a wine which combines powerfulness and elegance in equal measures, a refined, harmonious and precise wine, like few others. Exceptional, in capital letters.
White Stones arises from a soil that's naturally calcareous with stones on the surface, hence its name, and it's characterised by a more citrus, very mineral profile and has a smoky undertone, with flinty notes. Magnificent and persistent like its siblings.
Anyone who has had the opportunity and the good fortune to try them, won't forget them. As Luis Gutiérrez said, "Words do not do justice to this beauty."
Contains
Catena Adrianna Vineyard Fortuna Terrae 2014+Catena Adrianna White Stones Chardonnay 2015+Catena Adrianna Vineyard River Stones 2014.
Other customers also bought
This month's Best Sellers